Wallace's American Trotting Register Containing the Pedigrees of Standard Bred Trotters and Pacers and an Appendix of Non-Standard Animals. (10 volumes and the index)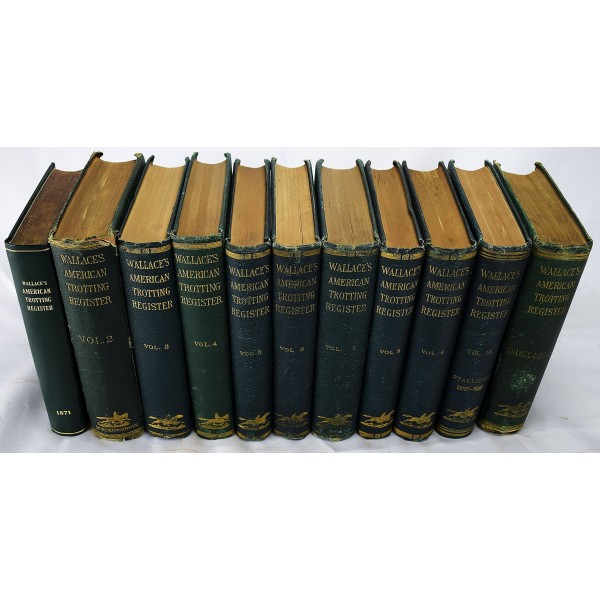 Wallace's American Trotting Register Containing the Pedigrees of Standard Bred Trotters and Pacers and an Appendix of Non-Standard Animals. (10 volumes and the index)
John Hankins Wallace; American Trotting Register Association.
New York, G.E. Woodward, 1871
11 octavo volumes. 25 cm. Volumes 1-10 with the index issued in 1892. Original, publisher's pebbled green cloth, gilt spine. (Vol 1. in later cloth). Rubbing. Minor toning to margins. Vol. 3 published in 1879, Vol. 8 published in 1890, Vol. 9 published in 1891. Markings to a few pages of volume 3.
"Containing the pedigrees of trotting horses, their ancestors and descendants, with a record of the performances for the year ..., not heretofore published, and a series of tables showing the value of the different strains of blood as exemplified in the 2:30 horses."
John Hankins Wallace was born in Pennsylvania in 1822. He moved to Iowa as a young man to become secretary of state fairs. He published Wallace's American Stud Book in 1867 and the Trotting Register in 1871. In 1875 he moved to New York to work on Wallace's Monthly and Wallace's Year Book. He gave up the Trotting Register after a dispute over the pedigree of the mare Sunol in 1891. (From Note 12 to Chapter 1, Cassiday, Rebecca. "Arborescent Culture: Writing and Not Writing Racehorse Pedigrees.")
This is an oversized or heavy book, which requires additional postage for international delivery outside the US.