Voyage Historique de l'Amerique Meridionale (Volume 2)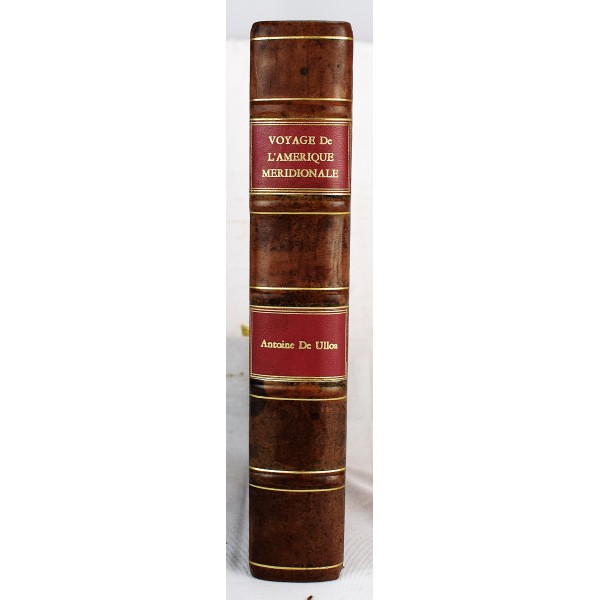 Voyage Historique de l'Amerique Meridionale (Volume 2)
Antonio de Ulloa; Jorge Juan y Santacilia
Arkstee & Merkus, 1752
1st French ed.  Quarto, 26 cm. Volume 2 only. Rebound in fine Spanish style full leather.  Gilt ruled with 6 spine compartments.  Marbled end pages. Fine binding. vi, 316, vi ; [Tome II, part 2:] vi, 3-309, v + folding maps and plates.  Engravings by Frans de Bakker, Francois Morellon La Cave, Jacob Folkema, Duflos. Refs: Sabin 36812; Palau 125474; Hill 1740.  French edition of Ulloa's "Relacion historica del viage a la America Meridional", and Juan y Santacilia's, "Observations astronomicas y physicas hechas de orden de S. Mag. en los reynos del Peru" (Madrid, 1748). 
This is an oversized or heavy book, which requires additional postage for international delivery outside the US. 
Full title: Voyage historique de l'Amerique meridionale fait par ordre du roi d'Espagne par Don George Juan, commandeur d'Aliaga dans l'ordre de Malthe, et commandant de la Compagnie des gentils-hommes gardes de la marine et par Don Antoine de Ulloa, lieutenant de la même compagnie, tous deux capitaines de haut-bord de l'armee navale du roi d'Espagne, membres des societes royales de Londres et de Berlin, & correspondans de l'Academie des sciences de Paris: ouvrage orne des figures, plans et cartes necessaires et qui contient une histoire des Yncas du Perou, et les observations astronomiques & physiques, faites pour determiner la figure et la grandeur de la terre.