The Writings of Charles Dickens, with Critical and Bibliographical Introductions and Notes by Edwin Percy Whipple (32 volume set) (Large Paper Edition)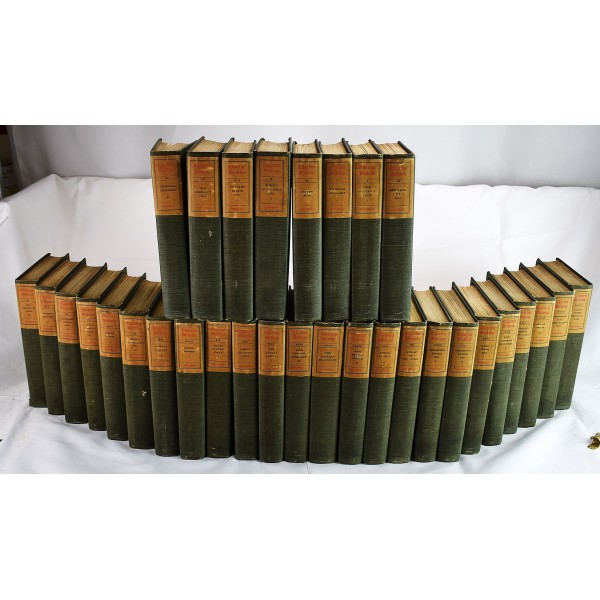 The Writings of Charles Dickens, with Critical and Bibliographical Introductions and Notes by Edwin Percy Whipple (32 volume set) (Large Paper Edition)
Charles Dickens; Edwin Percy Whipple; Gilbert A Pierce
Houghton, Mifflin and Co., 1894
32 volume complete set of Dicken's Works. Large Paper edition, limited to 500 sets. Octavos, 21 cm. Bound in publisher's green cloth boards with paper spine labels. Good bindings. Vol. 13 has some minor discoloration to boards. Clean, unmarked pages. Illustrated with color frontispieces. Numerous engravings after Cruikshank, Leech, Browne, etc.
Contents: 1-2. The posthumous papers of the Pickwick club; 3. Sketches by Boz; 4. The adventures of Oliver Twist; 5-6. Life and adventures of Nicholas Nickleby; 7. The old curiosity shop; 8-9. Barnaby Rudge, Master Humphrey's clock, and The mystery of Edwin Drood; 10-11. The life and adventures of Martin Chuzzlewit, and American notes; 12-13. Dombey and son; 14-15. The personal history of David Copperfield; 16-17. Bleak house; 18-19. Little Dorrit; 20. A tale of two cities; 21. Great expectations; 22-23. Our mutual friend; 24-25. Christmas books, Tales and sketches; 26. Hard times, and other stories; 27. The uncommercial traveller, and Pictures from Italy; 28. Plays, poems, and miscellanies; 29. A child's history of England; also A holiday romance, and other pieces; 30-31. Life, letters, and speeches of Charles Dickens; with biographical sketches of the principal illustrators of Dicken's works; 32. The Dickens dictionary, a key to the plot and characters in the tales of Charles Dickens, with copious indexes and bibliography; by Gilbert A. Pierce, with additions by William A. Wheeler.
This is an oversized or heavy book, which requires additional postage for international delivery outside the US.