The Scout and Ranger: Being the Personal Adventures of Corporal Pike, of the Fourth Ohio Cavalry; As a Texan Ranger, in the Indian Wars, Delineating Western Adventure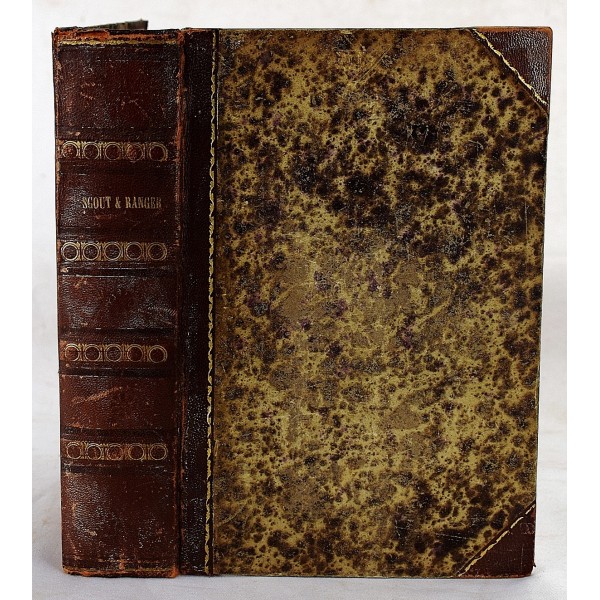 The scout and ranger : being the personal adventures of Corporal Pike, of the Fourth Ohio cavalry ; as a Texan ranger, in the Indian wars, delineating western adventure ; afterward a scout and spy, in Tennessee, Alabama, Georgia and the Carolinas, under Generals Mitchell, Rosecrans, Stanley, Sheridan, Lytle, Thomas, Crook, and Sherman.
James Pike
Cincinnati : J.R. Hawley, 1865
[Civil War and Frontier Narrative by a Union Scout and Texas Ranger] Bound in contemporary 1/2 morocco over marbled boards. 1st edition, 2nd issue. Octavo, 8 x 5 1/4 inches. Collated: [i]-x, 19-394 pp.; frontispiece, 24 plates (25 total). Scattered staining, foxing. Contemporary signature of A.B. Blyston on fep.
"This is an interesting reminiscence of a Yankee who became a Texas Ranger and later a Union spy. J. Frank Dobie said 'Pike tells a bully story to be ranked along with the personal narratives of those other two vivid ranger chroniclers, James B. Gillett and N.A. Jennings. ' In early 1859, Pike joined John Henry Brown's Texas Ranger company at Belton. During the next two years he saw almost continual action in the vicious Indian campaigns of that period. His recollections of these events are among the most vivid on record. When Texas voted to secede, Pike left Texas and joined the 4th Ohio Cavalry unit and saw extensive service. Pike was utilized by various commanders as a scout and as a spy within Confederate lines. Some of his escapades would be hard to believe if not proved by official war records." - Jenkins: Basic Texas Books, 162. "This is the narrative of an intrepid Ohio soldier, and illustrates a phase of army life that is as sensational and dangerous as it is useful and necessary. The reliability of the author's statements and service is certified to by the officers under whose orders he acted." - Ryan. Refs: Coulter 372; Graff 3286; Howes P-369; Ryan 562; Sabin 62818; Nevins, Vol. I, pg. 146; Dornbusch I, Ohio 56. [Texas Ranger battles with Comanches; Indian Frontier Warfare; Fredericksburg, VA; Union Spy; General Sherman]