The Principal Navigations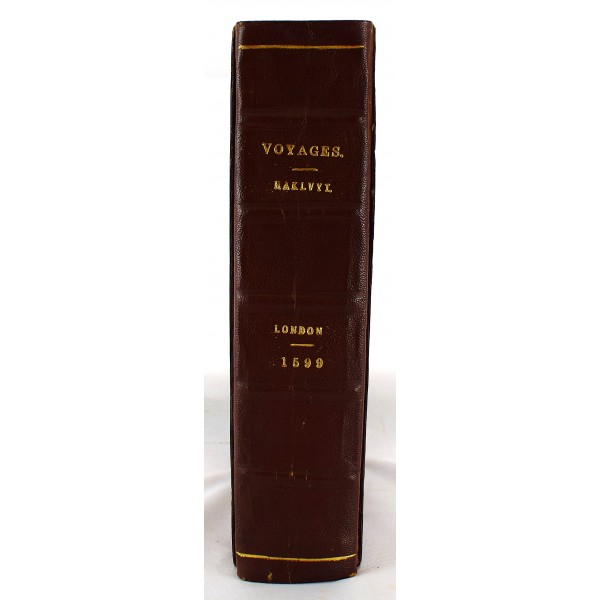 The Principal Navigations, Voyages, Traffiques and Discoveries of the English Nation : Made By Sea or Overland, to the Remote and Farthest Distant Quarters of the Earth, At Any Time Within the Compasse of These 1600 Yeres
Richard Hakluyt
London : George Bishop, Ralph Newberie and Robert Barker, 1599.
2 volumes bound as one. Second edition. Folio. Old calf with gilt arabesque on front board. Recased on modern spine leather. Ornamental woodcut capitals, some colored. Generally good internationally, some minor stains, one margin repaired. [iii]-xxiv, 606 + [xvi] 312 + 202 pp. Lacking first title page, final leaf of vol. , and the map. The title of Vol. 2 has "Hackluyt" and 1599"; line 7 reads "these 1600 yeres."
Volumes 1 and 2 only.
As is typical, lacking the section on the conquest of Cadiz by Essex; as ordered suppressed by Queen Elizabeth in 1599.
Richard Hakluyt (1552?-1616) taught geography at Oxford. Hakluyt was one of the primary promoters of English colonization of Virginia. Hakluyt with his collection of exemplary English voyages served the historic function of propagandist for English mercantilism and colonial expansion. Streeter Sale 28. "In a word, many of such useful tracts of sea adventures, which before were scattered as several ships, Mr. Hakluyt hath embodied into a fleet, divided into three squadrons so many several volumes; a work of great honour to England" (Thomas Fuller, The History of the Worthies of England). An important work in early England exploration.
References: Church 322; Golier English 14; Hill 131-132; Palau 112038 & 112039; Pforzheimer 443; STC 12626; Alden/Landis 594/42; Printing in the Mind of Man 105; Sabin 29595.