The Poetical Works of John Milton: With the Principal Notes of Various Commentators: To Which are Added Illustrations, with Some Account of the Life of Milton (Volumes 3, 4, 5, 6 only)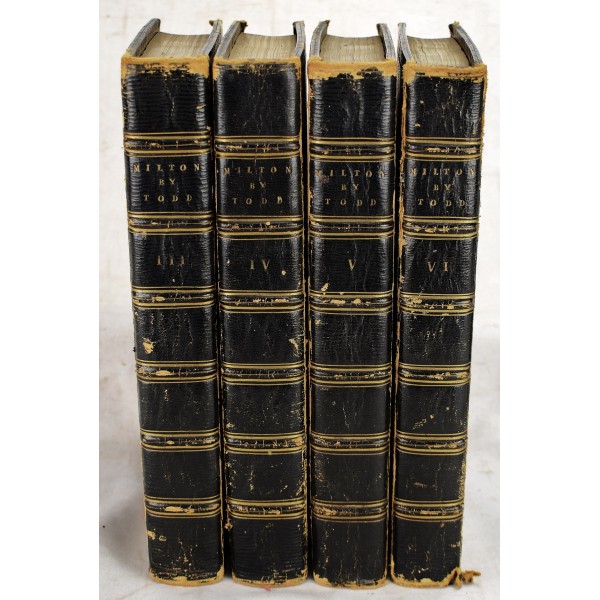 The Poetical Works of John Milton: With the Principal Notes of Various Commentators: To Which are Added Illustrations, with Some Account of the Life of Milton (Volumes 3, 4, 5, 6 only)
John Milton; Henry John Todd
London : Printed for J. Johnson by Bye and Law, 1801
[Fine Binding with interesting Provenance: Paul Mellon's copy] Large paper copy of the first edition of Todd's Milton. 4 volume set. Bound in contemporary, straight - grained, navy morocco. All edges heavily gilt. Gilt ruled cover. Shelf wear to covers, wear to hinges. Clean, unmarked pages.
Contents: Vol. III: The last six books of Paradise Lost --Plans of Paradise Lost as a tragedy. --Vol. IV: Preliminary observations on Paradise Regained --Origin of Paradise Regained --Paradise Regained --Milton's defence of Tragedy --Preliminary observations on Samson Agonistes --Samson Agonistes --Plans of other tragedies --Vol. V: Preliminary notes on Lycidas; Mr. King --St. Michael's Mount --Lycidas --L'Allegro --Il Penseroso --Arcades --Comus [etc.] --Sonnets --Vol. VI: Odes --Miscellanies --Translations --Elegiarum Liber --Epigrammatum Liber --Silvarum Liber
Paul Mellon (1907-1999) was an American philanthropist and breeder/owner of thoroughbred racehorses. His fortune derived from the Mellon Bank created by his grandfather Thomas Mellon, his father Andrew W. Mellon, and his uncle Richard Mellon. His father was the U.S. Secretary of the Treasury (1921-1932). Mellon's Rokeby Stables owned many successful racehorses, including Kentucky Derby Winner Sea Hero. He was a trustee of the National Museum of Racing Hall of Fame. He was created an Honorary Knight Commander of the Most Excellent Order of the British Empire and was awarded the National Medal of Arts and Humanities in 1997.
This is an oversized or heavy book, which requires additional postage for international delivery outside the US.