The History of London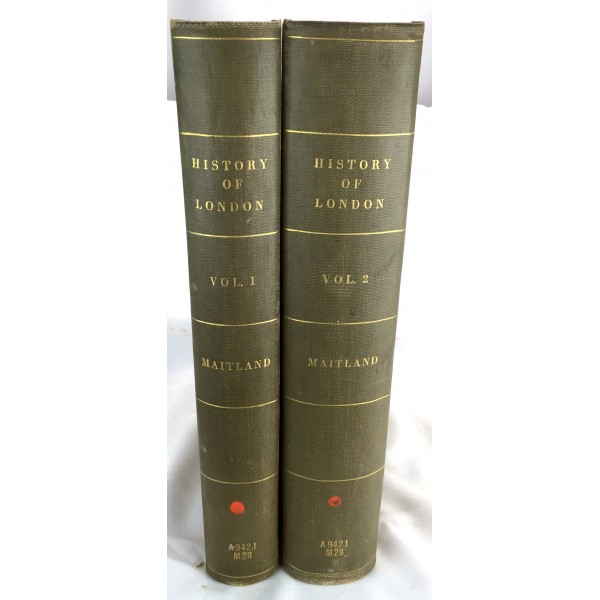 The History of London : from its foundation to the present time. In Two volumes
William Maitland
London : Printed for T. Osborne and J. Shipton, 1756.
Folio. Complete in 2 volumes. Frontispiece, [10], iii-viii, 3-1392, *1387-*1391, [2], 1394-1410 pages), 116 maps, plates and plans (of 121)(some folding). Modern green buckram, gilt lettering on spine. Library markings, perforated stamp to title pages. Toned and browned throughout, Most plates have archival repairs, chipping to several plates and pages, some maps lacking section of engraving.
Originally published in 1739 as "The history of London, from its foundation by the Romans." Second edition, enlarged and much improved, of Maitland's authoritative chronicle of London. A large number of prints depict the major architectural buildings across London and City Ward maps. "The purpose of this work is, to give an history of the Publick Buildings in the metropolis representing them in elegant figures accompanying these by an illustration of two kind; the first for general use… the other destined to the service of the practical architect" (Adams). "Includes the area comprised in the Bills of Mortality, so that it treats of parts of the districts now called the suburbs of London" (Page, History of the County of London). Adams 38; ESTC T100031; Upcott, 632-34; Howgego 105.
This is an oversized or heavy book, that requires additional postage for international delivery outside the US.