Sishu Fanshen Lu (Si shu fan shen lu 8 juan)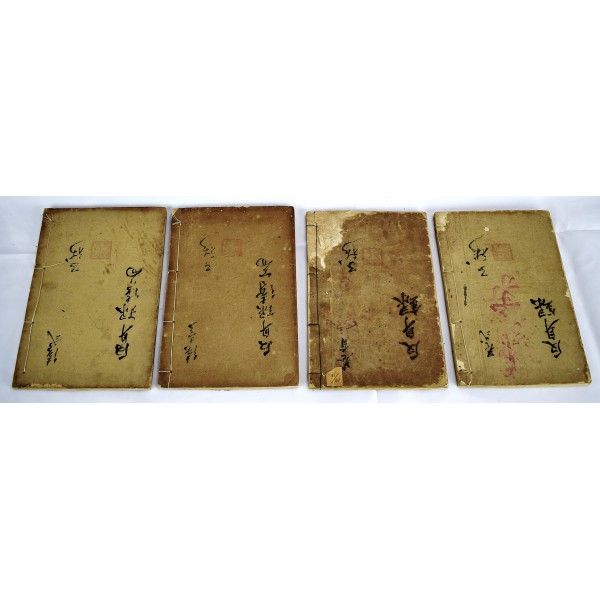 Sishu Fanshen Lu (Si shu fan shen lu 8 juan)
Li Yong; Wang Xingjing
[China] Zhejiang shu ju, Qing Daoguang 11, 1831
4 volumes.  Chinese stab binding.  Some of the outer cover wraps are torn, with some loss, mostly at corners.  Block print. Only two copies of this edition are in US libraries, one at Harvard and one at University of Chicago. 
The Sishu fanshen lu contains the Confucian philosophy of Li Yong (1627-1705) on the conduct of life. An important book in early Qing period Neo-Confucianism.  "Li Yong insisted that there is no theory of Confucianism aside from the Dao.  His idea, as a positive revision of the learning principle, promoted the new development of Confucianism in the Qing Dynasty.  Thirdly, Li Yong established his own doctrinal system characterised by the ideas of understanding substance and practical applicability.  In order to understand the substance, he required both insights inside the human mind and a realisation of human nature.  In order to be able to put this into practice, he insisted that the aim of study be 'to repent one's fault and make a fresh start.' For him, learning must be involved with 'preserving the heart/mind, and with fulfilling what ought to be for the way of humans.' Each of the Classics has its own special contents and the purpose and the end of studying them is to examine them in one's own self and to put the theories of the Classics into one's own practice.  If a person can study the Classics and practice under proper guidance, this person will be most certainly making progress.  If everyone is able to do this, then society will be peaceful and tranquility will prevail.  Under the influence of the learning of the heart/mind, Li Yong reinterpreted Confucian practices in terms of self-cultivation, and called for making efforts in the subtlety of the heart/mind." - Ouyang Kang, Encyclopedia of Confucianism, Routledge, 2015, p. 399.
Provenance: Estate of Zhixian Qi (1898 -1997), editor at National Institute for Compilation and Translation. He purchased the books in the 1930s in Sichuan, China during the Anti-Japanese War. He went to Taiwan in 1947 to be a professor of Education at the National Chengchi University.