Sammelband of 16 English Republican pamphlets, most against King William III (1676-1704)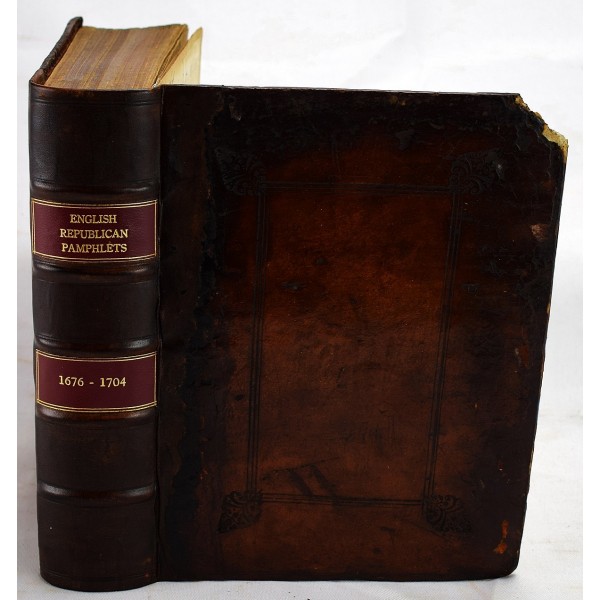 Sammelband of 16 English Republican pamphlets, most against King William III (1676-1704)
William Shippen; Thomas Brown; William Sherlock; Robert Jenkin; Robert Grove; Henry Gandy
London: Randal Taylor; W. Rogers; Rich. Humphries; John Wells; Walter Kettilby; Jos. Hindmarsh, 1676
Collection of 16 English republican pamphlets. Octavo. Contemporary Cambridge style calf, rebacked. 5 raised bands. Red leather spine label. Foxing, toning, marginal soiling. Contemporary signature of William Clark, 1780 London and later signature of Alfred Adams, 1828 on front flyleaf. Lynn Library bookplates to front pastedown. Pages trimmed close with minor loss to text of several pamphlets.
During the Glorious Revolution, Republican pamphleteers were mostly silent, dominated by the Orangist propaganda. By 1690, however, the Tories were outspoken against William's foreign policy. Several prominent religious figures of the day, such as William Sherlock and Henry Gandy refused the oaths to William and Mary. The majority of these pamphlets would be sent to the Dutch Republic playing on fears that "William III was nothing more than an absolute monarch intent on increasing his power in the Dutch Republic as well." (Onnekink, Reinterpreting the Dutch Forty Years War, 1672-1713). The Weesil pamphlets deal with the Jacobite Rebellion and Williamite War in Ireland.
Final two pamphlets deal with the Anglican Church. Contents include: [Shippen]. Faction display'd : a poem, 1704; [Anon]. The anti-Weesils. poem. Giving an account of some historical and argumental passages happening in the Lyon's court, 1691 Wing A3516; [Brown]. The Weesils, [1691]. Wing B5077; [Brown]. The weesil trap'd: a poem: being a reflection on the late satyrical fable, 1691. Wing B5076; [Richardson]. Providence and Precept: or, the Case of doing Evil that Good may come of it, stated and resolved; according to Scripture, Reason, and the Primitive Practice of the Church of England. With a more particular respect to a late Case of Allegiance, &c. and its Vindication, 1691. Wing R1376; Sherlock. The case of allegiance due to soveraign powers : stated and rssolved, according to Scripture and reason, and the principles of the Church of England, with a more particular respect to the oath, lately enjoyned, of allegiance to their Their present Majesties, K. William and Q. Mary, 1691. Wing S3269; Sherlock. The case of the allegiance due to soveraign powers, further consider'd, and defended : with a more particular respect to the doctrine of non-resistance and passive-obedience. Together with a seasonable perswasive to our new dissenters, 1691. Wing S3277; [Gandy]. Jure divino, or, An answer to all that hath or shall be written by republicans against the old English Constitution Part I, [1707]; [Anon.]. The Trimming court-divine, or, Reflexions on Dr. Sherlock's book of the lawfulness of swearing allegiance to the present government, [1690]. Wing T2279; Dr. Sherlock's two kings of Brainford brought upon the stage in a congratulatory letter to Mr. Johnson : occasioned by the doctor's vindication of himself in taking the oath of allegiance to Their Majesties after the time indulg'd by the law was expired., 1691. Wing D1767; Sherlock. The Second Part of Dr. Sherlock's Two Kings of Brainford, at the importunity of his vindicator., 1690; [Jenkin]. The title of an usurper after a thorough settlement examined : in answer to Dr. Sherlock's Case of the allegiance due to sovereign powers. Wing J572; [Browne]. The Case of Allegiance to a King in Possession, 1690; [Browne]. An answer to Dr. Sherlock's Vindication of The case of allegiance due to sovereign powers : which he made in reply to an answer to a late pamphlet, intituled, Obedience and submission to the present government, demonstrated from Bishop Overal's convocation-book : with a postscript, in answer to Dr. Sherlock's Case of allegiance, 1691; [Grove]. A A vindication of the conforming clergy from the unjust aspersions of heresie, &c. : in answer to some part of Mr. Jenkyn's funeral sermon upon Dr. Seaman : with short reflexions on some passages in a sermon preached by Mr. J.S. upon 2 Cor. 5:20 : in a letter to a friend., 1676. Wing G2161; Kettlewell. Christianity, a doctrine of the cross: or, Passive obedience, 1695. Wing K359.