Paris 1937: Presence de Paris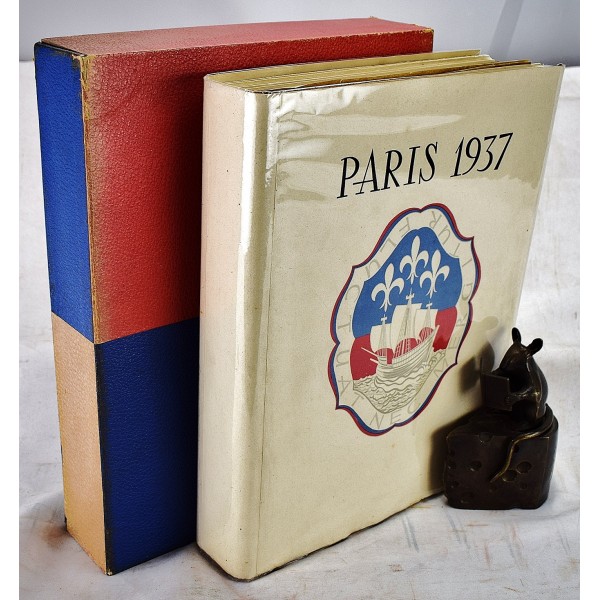 Paris 1937: Presence de Paris
Paul Valery, Raymond Escholier, Colette, Paul Claudel, Abel Bonnard, and Jules Romains, et. all; Andre Derain, Matisse, Raoul Dufy, Marie Laurencin, Pierre Bonnard, Edouard Vuillard, Jean Laboureur, a
J.-G. Daragnes Pour La Ville De Paris, 1937
Limited edition, no. 81 of 200 copies, of 500 on velin de manufactures Montgolfier. Folio, 38 x 29.5 cm. Bound in original cream wrappers. Held in publisher's blue and red clam shell case. Some rubbing to case extremities. Illustrated with 31 full-page illustrations (primarily etching, one colored). XV, 299 p. *Note: Lacking sheet with Matisse etching, "Paris Vu De La Cite.* Printed on Rives paper.
Issued to celebrate the Paris World Exposition of 1937, this work exhibits the neighborhoods, boulevards, avenues, and gardens of Paris. A host of French luminary writers contributed, including: Paul Valery, Andre Suares, Louis Hautecoeur, Albert Marquet, Leopold-Levy, Raymond Escholier, Rene Gillouin, Leon Daudet, Jean Robiquet, Georges Duhamel, Jerome Tharaud, Pierre Champion, J.L. Vaudoyer, Gerard Bauer, Jean Giraudoux, Gerard D'Houvill, Paul Morand, Abel Bonnard, Maurice Bedel, Julien Cain, Francis Carco, Pierre Mac-Orlan, C.H. Hirsch, Jules Romains, Colette, Lucien Descaves, Jean Cassou, Leon-Paul Fargue, Tristan Dereme, Paul Claudel, Georges Huisman, and Andre Therive. Illustrations by Henri Matisse, Georges Duhamel, Andre Derain, Raoul Dufy, Marie Laurencin, Pierre Bonnard, and Edouard Vuillard.
This is an oversized or heavy book, which requires additional postage for international delivery outside the US.