Mitchell's new general atlas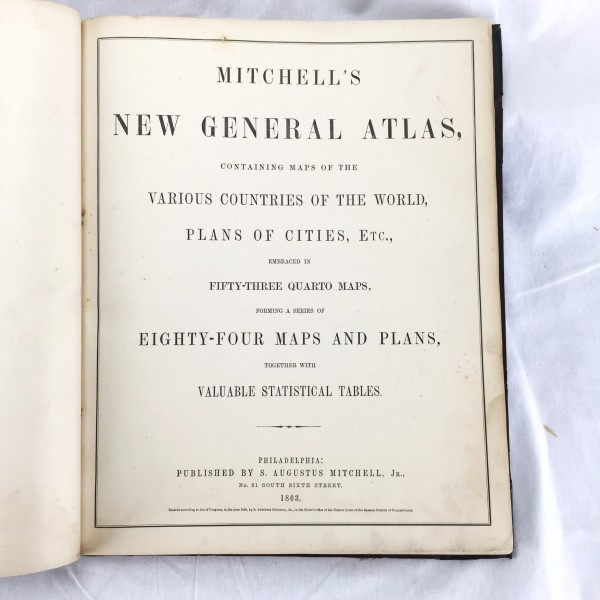 Mitchell's new general atlas, containing maps of the various countries of the world, plans of cities, etc. : embraced in fifty-three quarto maps, forming a series of eighty-four maps and plans, together with valuable statistical tables.
Mitchell, S. Augustus, Jr.
S. Augustus Mitchell, 1863.
Folio. 83 leaves, [28] pages: 84 color maps ; 40 cm. Black leather rebacked spine. Original black cloth. Good binding and cover. Wear to cloth edges, occasional spotting, dampstaining to bottom margin affecting last map and text pages in rear. Includes list of post offices in the United States, population of the United States by the census of 1850 and 1860, table of population, governments, & C., table of distances, mountains of the world, and rivers of the world. Phillips 892. Mitchells New General Atlas was a classic geographical reference in the late 19th century. Taking over the Mitchell Company business after his father retired in 1860, S. Augustus Mitchell, Jr. revised the existing Mitchell atlas and renamed it the New General Atlas. New editions were published yearly until 1887. The maps were so popular they were used by the public and sometimes other publishers until the beginning of the 1900s. See Ristow, American Maps and Mapmakers.