Imago Primi Saeculi Societatis Lesu: A Prouincia Flandro-Belgica Eiusdem Societatis Repraesentata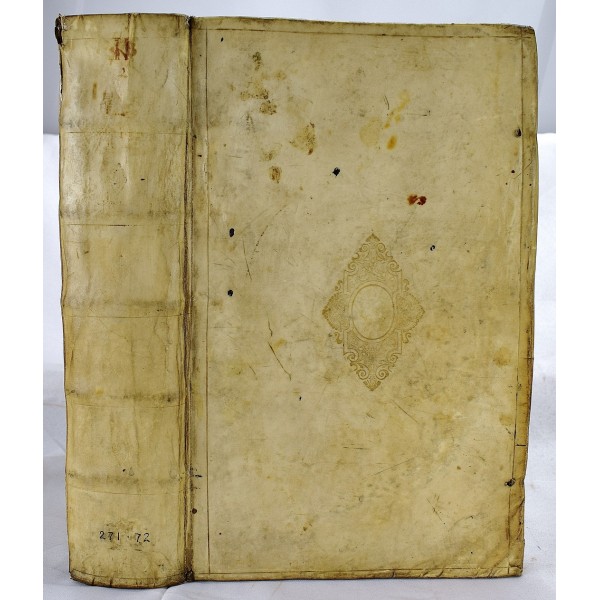 Imago Primi Saeculi Societatis Lesu: A Prouincia Flandro-Belgica Eiusdem Societatis Repraesentata
Bolland, Johannes, 1665; Tollenaere, Jean de, 1582-1643; Hossche, Sidronius de, 1596-1653; Walle, Jacques van de, 1599-1690; Fruytiers, Philip, 1610-1666; Galle, Cornelis, 1576-1650; Jean
Antwerp: Ex officina Plantiniana Balthasaris Moreti, 1640
1st ed. Folio, 14 x 9 in. Bound in contemporary vellum. Gilt-tooled lozenge, centered on both boards. Covers bowed. 124 emblematic engravings (126 engravings total, most 1/3 page). Engraved title page after Philip Fruytiers and emblematic illustrations by Cornelis Galle. Woodcut printer's device with compasses at end, signed C.I. Woodcut tail-pieces, initials. Primarily in Latin verse, and with some Greek and Hebrew text. Armorial book plate of Thomas Weld of Lulworth Castle, inside the front board. Early inscription on half title, "Col Soc. Jesu Gandaui" [i.e. Ghent]. Boston College stamp on engraved title & dedication page. Generally in good condition internally. *4, A-Z4, Aa-Zz4, Aaa-Zzz4, Aaaa-Zzzz4, 5A-5Z4, 6A4-6F4, 6G3.
Jean Bolland's Imago is a massive hagiographical work dedicated to the first Jesuit fathers of Belgium and Flanders. Bolland expanded Heribert Rosweyde's earlier work. "Rosweyde had proposed to publish at first only the original texts, without commentaries or annotations, relegating to the last volumes the studies intended to enable one to appreciate their value and to throw light on their difficulties. Bolland recognized at once how defective this plan was. So he decided to give in connection with each saint and his cult all the information he had been able to find, from whatever sources; to preface each text with a preliminary study destined to determine its author and its historical value." - Catholic Encyclopedia.
Contents: Prolegomena de anno saeculari - Liber I. Societas nascens - Liber II. Societas crescens - Liber III. Societas agens - Liber IV. Societas patiens - Liber V. Societas honorata - Liber VI. Societas Flandro-Belgica - Index rerum memorabilium.
Refs: Landwehr, J. Emblem books in the Low Countries, 111. Aldin & Landis 640/6; Praz, pp. 185-88.