Voyage de l'Arabie Petree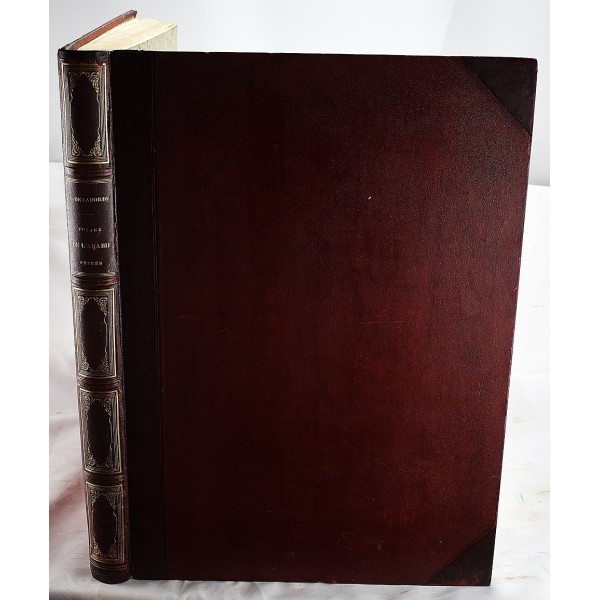 Voyage de l'Arabie Petree
Leon de Laborde; Linant
Paris : Giard, 1830
[Important early views of Petra and Kazneh (Al-Khazneh)] First Edition. Atlas Folio, 59.5 x 32.5 cm. Bound in contemporary leather backed boards. Marbled end sheets. Collated, complete. [8], 87 p., [73]. Plate list at rear. The title page with a fine vignette illustration. 69 plates (most on India paper), including a large folding map. One map hand-colored. Institutional stamp on title and one text leaf. Foxing throughout.
After being rediscovered by Johann Burckhardt in 1812, Petra was largely unknown before Laborde's publication. In 1828 Laborde made the journey to Petra with engineer Louis Maurice Adolphe Linant de Bellefonds dressed as Bedouins. They were the first to make detailed drawings of the area. Their work was the only graphic representation of Petra in the west before David Robert's work ten years later. Refs: Blackmer 929; Nissen ZBI 2335; Gay 3647; Brunet III, 714; Vicaire IV, 758-9.
Provenance: From the library of Edward S. Philbrick of Brookline, Massachusetts. Philbrick was a Sanitary Engineer in the Civil War and notably part of the Port Royal Experiment.