Universal Arithmetick: or, a Treatise of Arithmetical Composition and Resolution. To Which is Added, Dr. Halley's Method of Finding the Roots of Equations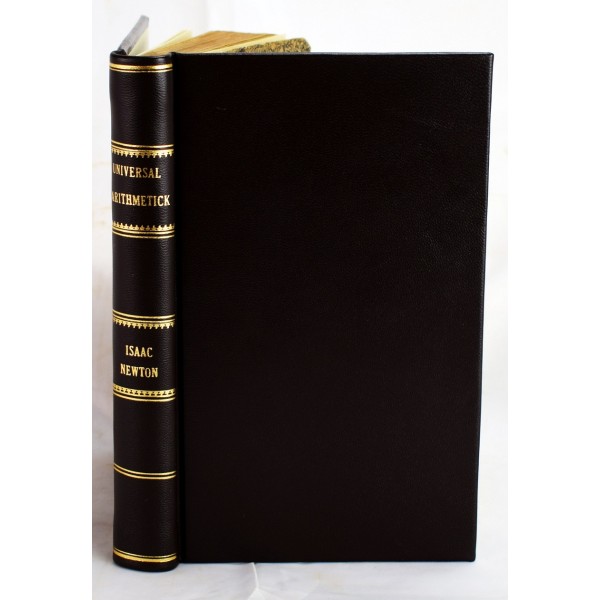 Universal Arithmetick: or, a Treatise of Arithmetical Composition and Resolution. To Which is Added, Dr. Halley's Method of Finding the Roots of Equations
Isaac Newton
Printed [by T. Wood] for J. Senex, W. and J. Innys, J. Osborne and T. Longman, 1728
The 2nd ed., very much corrected. Octavo, 19 x 12 cm. Bound in fine leather. Marbled end sheets. [4], iii, [1], 271, [1] pages, plates). Illustrated with 8 folding plates. Minor tanning. Scattered spotting.
First published in 1707 in Latin as Arithmetica Universalis, and in English in 1720. In this work, Newton covers the essentials of algebra: notation, addition, subtraction, multiplication, division, extraction of roots, reduction of fractions, reduction of geometrical questions to equations, and resolution of equations. In addition, Newton extended Descartes' rule of signs to imaginary roots. He also formulated a rule to determine the number of imaginary roots of any equation. Refs: Babson 202. Written in Latin by Sir Isaac Newton, and Translated by the late Mr. Ralphson, and Revised and Corrected by Mr. Cunn.
Provenance: From the library of James Freeman Dana Garfield (1828-1911). Garfield was the founder of the Fitchburg Historical Society. This book was given to the society after his death by his daughters.