Rhetorum Graecorum Orationes: [Orationes Horum Rhetorum; Orationes Infrascriptorum Rhetorum; Isocrates Orationes] {Aldine Printing}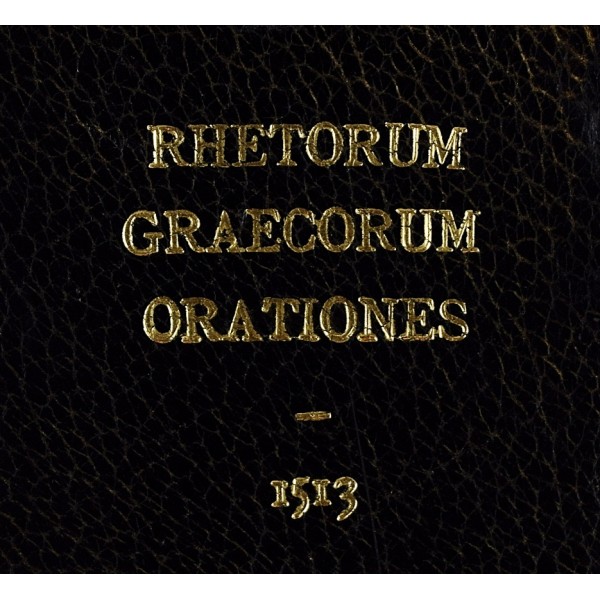 Rhetorum Graecorum Orationes: [Orationes Horum Rhetorum; Orationes Infrascriptorum Rhetorum; Isocrates Orationes] {Aldine Printing}
Isocrates, Alcidamas, Gorgias, Aristides, Harpocration; etc.
Venice: Aldus Manutius and Andreas Asulanus
[Early Printing, Aldine Press] Two volumes (of three), bound as one. Folio, 30 x 20 cm. Bound in early vellum. Good binding. Small scuff on center of spine. Edges red. Held in a fine modern cloth clamshell case. Collated: [4], 3-197, [3 blank]; 162 [i.e. 163], [1 blank] pp. Titles in Greek and Latin. Text in Greek. Colophon in Latin. Aldine printer's device on each title. Pages are clean, bright, and unmarked, with wide margins
Editio Princeps of the works of the Attic orators, notably: Aeschines, Lysias, Alcidamas, Anthisthenes, Damades, Andocides, Isaeus, Dinarchus, Antiphon, Lycurgus, Gorgias, Lesbonax, and Herodes. According to Dibdin, these orations had been hidden in Mount Athos until Lacsaris, under patronage of Lorenzo de Medici discovered them. Refs: Adams O-244; Renouard. Annales de l'imprimerie des Alde. p. 60-62; Laurenziana, 114; Ahmanson-Murphy 95/1-4; Hoffman 3, p.167. Alternative titles: Oratores Graeci; Orationes infrascriptorum rhetorum; Rhetorum Antiquorum Graecorum Orationes Graece. Logoi toutoni ton retoron.
Includes a letter from the Grolier Club about the sale of the book in 1824, dated 1992 addressed to Mortimer Chambers from Martin Antonetti and Elizabeth Muller. Chambers was a professor of history at UCLA, specializing in classical Greek history.
This is an oversized or heavy book, which requires additional postage for international delivery outside the US.