Norte de la Contratacion de las Indias Occidentales. Dirigido al exc.mo Senor D. Gaspar de Bracamonte y Guzman, Conde de Penaranda, Gentilhombre de la Camara del Rey Nuestro Senor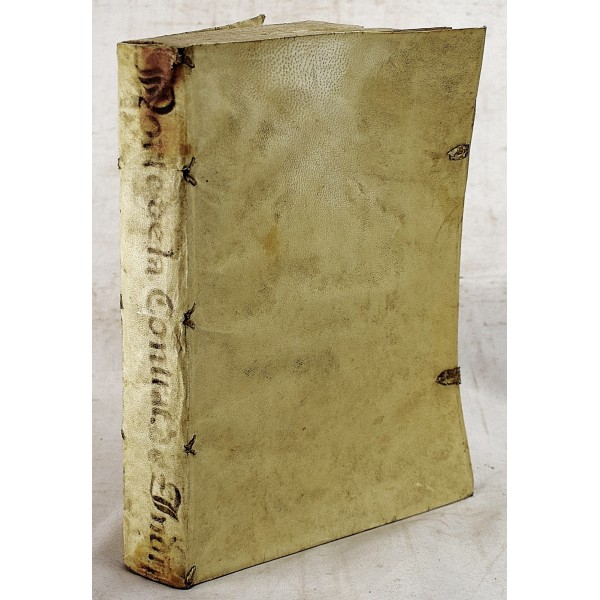 Norte de la contratacion de las Indias occidentales. Dirigido al exc.mo senor D. Gaspar de Bracamonte y Guzman, conde de Penaranda, gentilhombre de la camara del Rey nuestro senor, de sus consejos de Estado, y guerra, y de la iunta del govierno universal destos reynos. Y presidente antes del consejo supremo de las Indias, ya del de Italia.
Joseph de Veitia Linage; Juan Francisco de Blas
Por Juan Francisco de Blas, impressor mayor de dicha ciudad, 1672
[Commerce of the Spanish Empire and its Latin American Possessions] 2 parts, in one volume. Folio, 29 x 21 cm. Bound in contemporary vellum. Manuscript spine label. Minor cover wear, rust stain on head of spine. Text printed in two columns. [32], 299; 264, [71] pages. Frontispiece plate has minor dampstaining. Lacking leaves II:L3-4. Details the function of the Spanish Royal Treasury. "Laws, rules and regulations governing the commerce and navigation between Spain and the Indies" - JCB III:248-249. Palau 356806; Sabin 987780.
Joseph de Veitia Linage served as an official in the Casa de Contratacion and Consejo de Indias from 1653-1688. Veitia Linage's personal experience in Spanish government caused him to see the necessity of gathering together the laws governing commerce. This was his attempt to provide "a guidebook for student of commercial affairs." Linage wrote this work with the intent of giving a foundation for understanding Spanish commercial laws in place, so that the reader would gain a core competency in 17th century Spanish commerce. The work was widely influential. C. Norman Guice, Hispanic American Historical Review (1947) 27 (2): 340–341.