Life Studies of the Great Army: A Historical Work of Art, in Copper-Plate Etching, Containing Forty Plates, Illustrating the Life of the Union Armies during the Years 1862-'3-'4-'5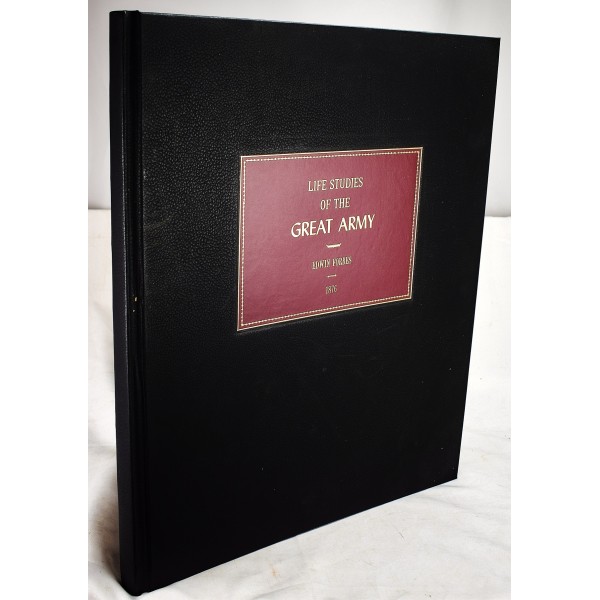 Life Studies of the Great Army: A Historical Work of Art, in Copper-Plate Etching, Containing Forty Plates, Illustrating the Life of the Union Armies during the Years 1862-'3-'4-'5
Edwin Forbes
H.J. Johnson, 1876
Folio; 58 x 45 cm. A historical work of art, in copper-plate etching, containing forty plates, illustrating the life of the Union Armies during the late rebellion. Scattered spotting / foxing throughout. Library perforated stamps on 2 plates (plates 1 and 40), touching the edge of the plate. Some marginal wear, soiling. The preliminary leaf is provided in facsimile. The set was a limited edition sold by subscription. It consisted of 40 India paper proofs sold for $50.00, a substantial sum in 1876. Edwin Forbes was an American landscape painter and etcher. He worked as the staff artist for Frank Leslie's Illustrated Newspaper and Harper's Weekly during the Civil War, covering the Army of the Potomac from 1862-1864.
List of plates 1: The Reveille on the Line of Battle; Tattoo in Camp; 2: The Commissary's Quarters in Winter Camp; 3: Through the Wilderness; 4: A Wagoner's Shanty; A Deserted Pickethut; Mud Huts; 5: The Pontoon Bridges; Plate 6: A Thirsty Crowd at The Old Spring House; Newspapers for the Army; 7: The Leader of the Herd; 8: A Rainy Day on Picket; Washing Day; 9: A Christmas Dinner; 10: A Slave Cabin; The Old Grist Mill; Sam; Got Any Pies for Sale Aunty?; A picaninny; 11: The Newspaper Correspondent; 12: Coffee Coolers; 13: Officers' Winter Quarters; 14: A Scene on the Roadside Near Summer Camp; 15: Returning from Outpost Duty; 16: A Night March; 17: A Halt in the Line of Battle; 18: The Rear of the Column; 19: Stuck in The Mud; A Flank March Across Country During a Thunder Shower; 20: Fall in For Soup - Company Mess; 21: Going into Camp at Night; 22: On Picket; The Old Saw Mill; Waiting for something to turn up; 23: The Reliable Contraband; 24: Home Sweet Home; 25: The Distant Battle; 26: A Cavalry Charge; 27: A Hot Day; Beef Steak, Rare!; A Straggler; A Quiet Nibble On the Cavalry Skirmish Lines; An Orderly; 28: Newspapers in Camp; 29: A Watched Pot Never Boils; A Tasty Supper; Drummer Boys; Played Out; 30: Coming into the Lines; 31: The Supply Train; 32: "Gone off with the Yanks"; A Land Flowing with Milk and Honey; A Scouting Party; An Old Campaigner; 33: The Outer Picket Line; 34: A Lull in the Fight; 35: Traffic Between The Lines; 36: Going into Action; 37: An Advance of the Cavalry Skirmish Line; 38: Fording A River; Twenty Minutes Halt; 39: "Bummers"; 40: The Sanctuary.
This is an oversized or heavy book, which requires additional postage for international delivery outside the US.