Indiae Orientalis pars VI.: Guineae, ad Africam pertinentis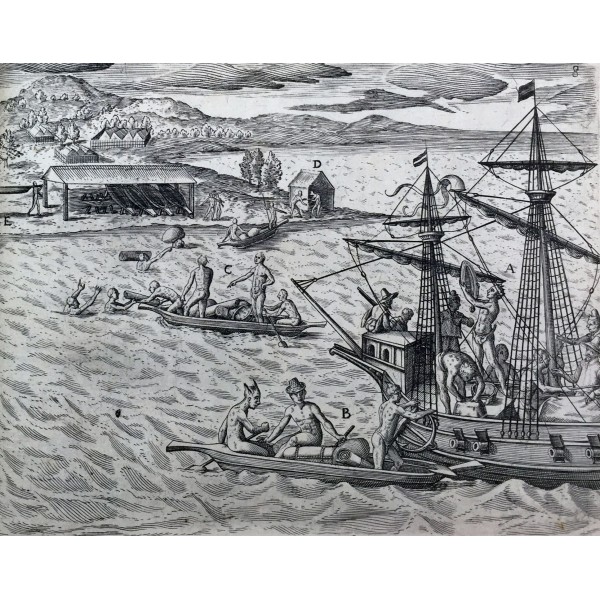 Indiae Orientalis pars VI. : Veram et historicam descriptionem auriferi regni Guineae, ad Africam pertinentis, quod alias littus de Mina vocant, continens, qua situs loci, ratio vrbium & domorum, portus item & flumina varia, cum variis incolarum superstitionibus, educatione, forma, commerciis, linguis & moribus, succincta breuitate explicantur & percensentur.
Johann Theodor de Bry; Johann Israel de Bry; Pieter de Marees
Francofurti ad Moenum : Ex officina Wolfgangi Richteri, 1604.
2 parts in one volume. Folio, 30 cm. Elegantly bound in modern full red levant moroccan, raised bands, all edges gilt, gilt rule. Fine binding. Engraved vignette on general title; [8], 127 pp, [1]; [1], 26 leaves of half-page engraved illustrations. Occasional light browning. Marginal dampstaining to final 20 text pages in first part. Minor spotting in second part (plates).

First edition, first issue of the sixth volume of de Bry's Little Voyages.  This volume covers the first-hand account of Pieter de Marees's first Dutch expedition to Guinea, 1600-01.

Pieter de Marees' history of Guinea, originally published in 1602, is one of the earliest detailed European descriptions of West African society and an essential reference for the precolonial period. De Marees wrote primarily about the Gold Coast (Ghana), but his work also covers Cape Verde (Senegal). This work he "discusses the Slave Coast and the Portuguese participation in the traffic". (Postma, The Dutch in the Atlantic Slave Trade, 1600-1815, p. 13). These trade ties would drive European interest in the region leading to the propagation of the Slave Trade.

Brunet 1338. Crawford, p. 173. Church 213.