Histoire des Chenes de lʹAmerique ou Description et Figures de Toutes les Especes et Varietes des Chênes de lʹAmerique Septentrionale, Considerees Sous les Rapports de la Botanique, de Leur Culture et de Leur Usage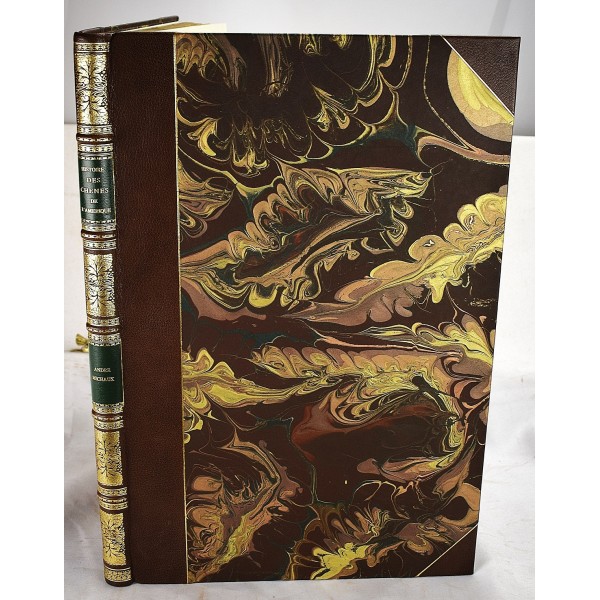 Histoire des Chenes de lʹAmerique ou Description et Figures de Toutes les Especes et Varietes des Chênes de lʹAmerique Septentrionale, Considerees Sous les Rapports de la Botanique, de Leur Culture et de Leur Usage
Andre Michaux; Pierre Joseph Redoute; Henri-Joseph Redoute
Paris : de l'Impr. de Crapelet, An IX-1801.
[Important Work on the Oak Trees of North America] Folio, 45.5 x 30.5 cm. Rebound in fine modern 3/4 morocco, over botanically-theme marbled boards. 5 raised bands. Gilt tooling to spine. 36 copper-engraved plates. Spotting throughout. Stain along top margin, some soot soiling. Most of the plates drawn by Pierre-Joseph Redoute. Commissioned by the French Government, Michaux spent ten years collecting and sending back samples of trees and plants for potential medical or food purposes, and specifically here to assess the suitablity of American oaks for the construction of naval vessels. "His contribution to our knowledge of American plant life made for him a place of imperishable distinction as an American botanist" - Humphry, 'Makers of North American Botany,' p. 177.
Great Flower Books, p 119; Nissen BBI, 1358; Stafleu & Cowan 5957.
This is an oversized or heavy book, which requires additional postage for international delivery outside the US.