Hippocratis Coi Medicorum Omnium Longe Principis, Opera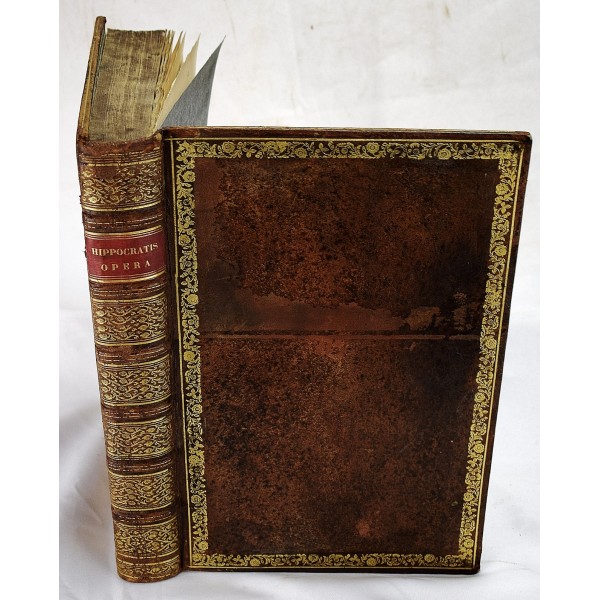 Hippocratis Coi Medicorum Omnium Longe Principis, Opera
Hippocrates.; Wilhelm Copus; Andreas Brentius; Marco Fabio Calvi; Niccolo Leoniceno
Basel: Cratander; Officina Andreae Crantandri, 1526
[The Works of Hippocrates] 2nd edition. Folio. Early 19th century calf binding. Gilt stamped spine compartments, red morocco spine label. [52], 494 p., [2] Engraved title page. Printer's woodcut devices throughout. Generally good internally. A few pages have early marginalia. Minor marginal staining to first 20 pages.
Based on the Roman first edition of Fabio Calvio, this edition was printed the next year in Basel with additional text. This edition contains the following additional texts lacking in the earlier edition: De Hominis Natura (tr. Andrea Brentio of Padua) as well as the Aphorisms (tr. Niccolo Leoniceno), and De Ratione Victus in Morbus Acutis, and Praesagiorum liber (both translated by Wilhelm Copus).
"Hippocrates freed medicine from superstition and the influence of priestcraft and based his system of medicine on the accumulated empirical knowledge of Egypt, Cnidos, and Cos. The 'Hippocratic oath' has remained until today the most valid expression of the duties and ethics of the medical profession. He created diagnostic medicine-Laennec admits that his idea was suggested to him by Hippocrates-and many of the famous Aphorisms have passed as proverbs into our everyday life." Printing in the Mind of Man, 55 (citing 1525 Roman 1st ed. of Franciscus Minitius Calvus.) "Through the writings attributed to him Hippocrates is credited with developing the first system of empirical medicine based on clinical experience, and the Hippocratic Oath has long been regarded as expressing the fundamental ethical and moral standards of the medical profession" (Grolier, Medicine p. 3).
Refs: Adams H568; Bruni Celli 629; Choulant p. 25; Durling 2321; Waller 4496; Wellcome 3178.