Curson / Hoffman / Lord Family Bible - The Holy Bible. Containing the Old Testament and the New.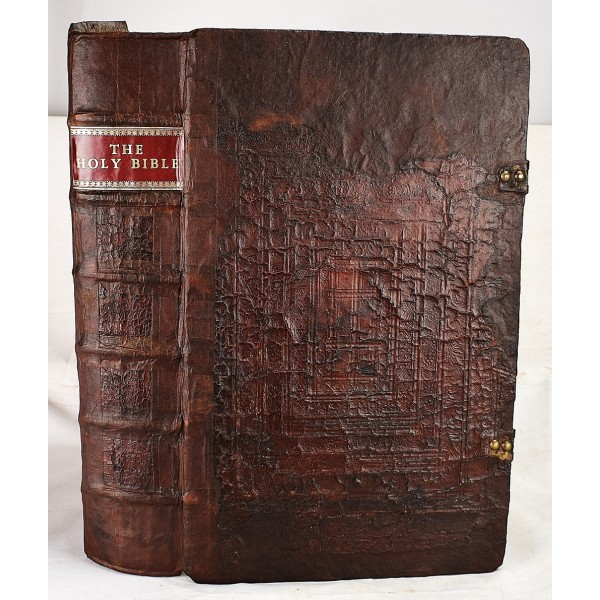 Curson / Hoffman / Lord Family Bible - The Holy Bible. Containing the Old Testament and the New.
King James Bible; Richard Curzon; Walter Lord
[Amsterdam] [London] : Printed in the year 1715
[Colonial Maryland Bible: Curson / Moale / Hoffman / Lord Families of Baltimore] Thick folio; 40.8 x 24.5 cm (16 1/8 x 9 3/4 inches). Extremely worn, contemporary leather binding. Binding rebacked. Toning, staining. Text printed in two columns. 6 engraved maps by Joseph Moxon: "Map of all the Earth"; "Paradise, or the Garden of Eden"; "Israel's Peregrination"; "Jerusalem"; "Canaan, The Land of Promise"; and "The Travels of St. Paul and other the Apostles". Chip missing from margin of engraved frontispiece title. Title margin stained. Final two leaves (list of tables) have loss at the fore-edge, entering into the text. "Folio King James Version with Geneva notes, likely printed at Amsterdam," Herbert 936; ESTC T82272; Darlow & Moule, 936.
Provenance: This book was in the Curzon family (and their descendants) for more than 250 years. There are extensive genealogical information, including 28 hand written entries over multiple generations on the Apocraypha title page. The entries begin with Richard Curson (1726-1805) and Elizabeth Becker (1731-1787). Richard was an English emigrant to colonial New York who became a prominent merchant, banker and patriot (buried Old Saint Paul's Episcopal Church Cemetery in Baltimore). The Cursons were sympathetic to the American Revolution and fled the British occupation of New York City for Baltimore. (Additional note: His granddaughter was the first American-born Catholic Saint, Elizabeth Ann Seton (1774-1821). Richard Jr. continued his father's wine trade and outfitted eight of his ships as privateers during the Revolution. Ownership passed then to Richard Jr.'s daughter Elizabeth Curson (d. 1880), who married Samuel Hoffman. Includes the records of Richard Curzon Hoffman a Confederate officer in the Twenty-first Virginia Volunteer Infantry (Stonewall Jackson's Second Brigade, 1861-1865). The final genealogical entry is for Eliza Lawrence Hoffman (b. 1891). Later the book passed to Henrietta Mactier Hoffman, who married Walter Lord Sr. Early signature of Ellin Moale Curson (and others). Bookplate of the author Walter Lord. John Walter Lord Jr. (1917-2002) was a noted author of more than 12 books, including an account of the sinking of the RMS Titanic, "A Night to Remember." Includes some related Baltimore ephemera. Lord died without issue, and this Bible passed out of the family's hands after his death. Later owned by Frances Tower Thacher (a descendant of the Vanderbilt family). Further note: Tucked into an old piece of paper is a four-leaf clover (I have not tested its luck, but it may still yield fortuitous qualities).