Che! Wah! Wah! or, The Modern Montezumas in Mexico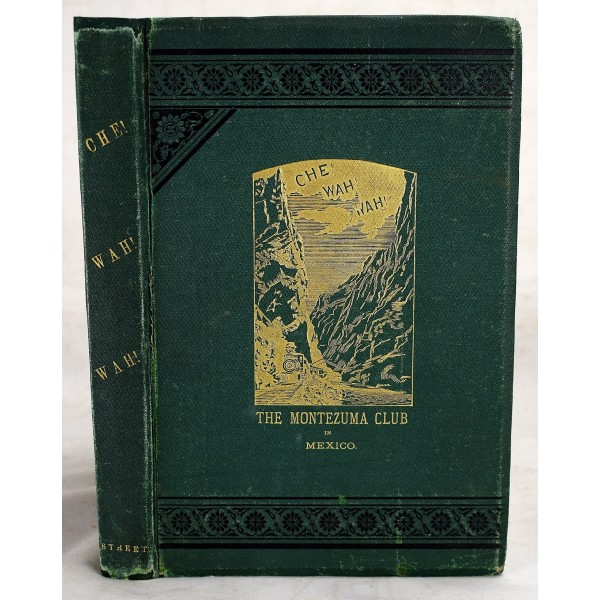 Che! Wah! Wah! or, The Modern Montezumas in Mexico
George G Street; Montezuma Club.
Rochester, N.Y., E.R. Andrews, 1883
[From Colorado to Mexico: An Unusual Rail Tour for Freight Agents] Tall octavo, 26 cm. Bound in publisher's green cloth, with black border and gold vignette of a train passing through a valley. Neat reback. Minor shelf wear, but still an attractive copy. White moire endpapers. 115 pages. Frontispiece in blue, white, and black. Illustrated with photographs taken during the trip by R.D. Cleveland, and wood cuts from sketches by the author. Original photographs of Texas and other locals. Includes a folded map (map of Northern Mexico and the U.S. from Alabama to California); and a Map of a Portion of the Denver & Rio Grande Railway from Salida to Marshall Pass. 33 mounted albumen on letterpress mounts documenting the train journey from Colorado to Mexico. Photo leaves slightly warped. Refs: Adams, Rampaging Herd 2187; Palau 322926. DeGolyer Library, To Delight the Eye 22. "This excursion tour was really a busman's holiday; the Chicago, Burlington & Quincy, the Denver & Rio Grande, and the Atchison, Topeka & Santa Fe railroads hosted a tour of Colorado, New Mexico, and Mexico for a group of eastern freight agents. The party derived a good deal of innocent amusement from their Che! Wah! Wah! joke." - Hanna & Reese, From Train to Plane 43. Includes a list of the 64 participants, as well as the 15 staff including the cooks and waiters. Stops included: Omaha, Lincoln, Denver, Canon City, Leadville, Marshall Pass, Pueblo, Trinidad, El Paso, Raton, Las Vegas, Wagon Mound, Chihuahua.