A Geographical Description of the Coasts, Harbours, and Sea Ports of the Spanish West Indies; Particularly of Porto Bello, Cartagena, and the Island of Cuba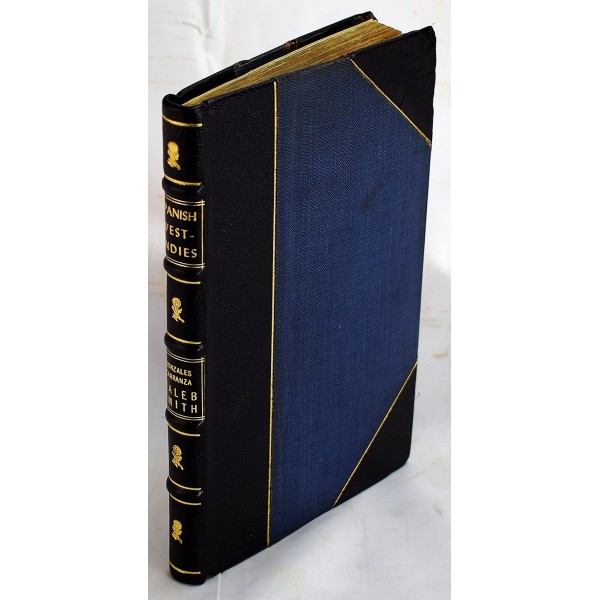 A geographical description of the coasts, harbours, and sea ports of the Spanish West Indies; particularly of Porto Bello, Cartagena, and the island of Cuba. With observations of the currents, and the variations of the compass in the Bay of Mexico, and the north sea of America.
Domingo Gonzalez Carranza; William Parker; Caleb Smith
London, Printed for the Editor Caleb Smith at his office in Castle-Alley, Cornhill, 1740
3/4 leather over blue cloth boards, gilt spine, 5 raised bands, new endpapers. Complete with 5 folding maps. Bumping to corners. xi, 124, [4] of 8, lacking final two leaves of index. Explorers Club (NYC) blindstamps to title and maps. Explorer's Club bookplate to verso presented by James Ford. Some early restoration, offsetting and spotting to maps (see pictures). Minor toning to text.
Carranza's manuscript was an important aid for early navigators in the Gulf of Mexico and the Caribbean. First English translation (two issues were done in 1740, but it is unknown which came first). This work is an abridged translation of Domino Gonzales Carranza manuscript from 1718. Lawrence Wroth has argued that the book was printed for English naval officers during the War of Jenkin's Ear to aid in their struggle against the Spanish. (Wroth, "Some American Contributions to the Art of Navigation 1519-1802," p. 76-78).
All five maps present: [1] A New and Correct Chart or Map of the West Indies; [2] A Plan of the Harbour and City of La Vera Cr); [3] A Plan of the Harbour & City of Cartagena; [4] A Plan of the Harbour and City of Havana; [5] A Plan of the Harbour and Town of Porto Bello. With an appendix of Captain Parker's account of the taking of the town of Porto Bello in 1601. Refs: Palau 105157. Sabin 11030, 27899. Spain & Spanish America 219. Phillips, Maps of America 1055.