Operum Aristotelis Stagiritae - 1590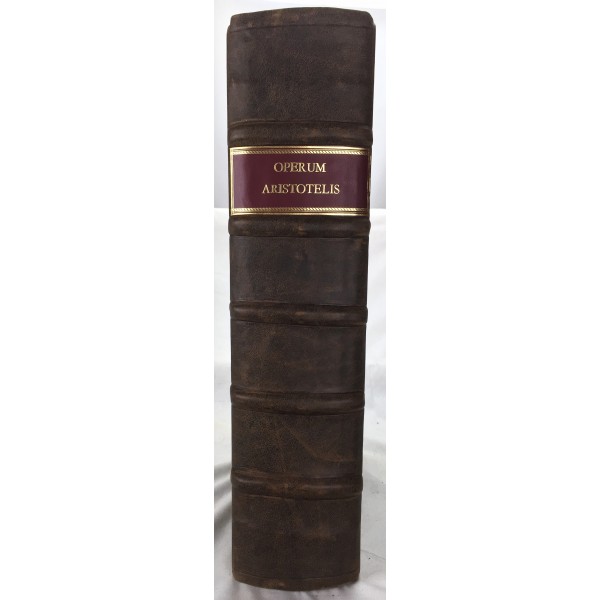 Operum Aristotelis Stagiritae Philosophorum Omnium Longe Principis, Nova Editio Graecè & Latiné : Graecus contextus quam emendatißimè praeter omnes omnium editiones editus: adscripsit ad oram libri & interpretum veterum recentiorùmque & aliorum doctorum virorum emendationibus: in quibus plurim ; ex bibliotheca Isaaci Casavboni
Aristoteles; Aristotles; Isaac Casaubon
Lugduni : Apud Iacobum Bubonium [Lyon], 1590.
2 Volumes bound in One. Folio; 39 x 25 cm. 1st ed. Handsomely bound in modern period-style brown calf. 5 raised bands. Gilt lettering to red leather spine label. Fine binding and cover. New endpapers. Collated: [10] 755 pp. + [2] 595 pp. [32].  Conservation to title page margin. Library stamp to verso of title page. Staining to title page.  Internally an attractive copy, mostly clean and unmarked, with a scattered, faint spots.   Text in 2 columns, Greek and Latin side by side.  Small marginal dampstain to final 40 pages of index.
Issac Casaubon was one of the preeminent French scholars of his day.  "Casaubon's residence in England was an incalculable stimulus to the industry and research of the new "Anglican" school that was rising over the heads of the puritan groups." (The Cambridge History of English and American Literature; Volume VII. Cavalier and Puritan. P. 10-13)  His wide scholarship and commentaries on classical studies was highly valued.
Casaubon's Operum Aristotelis Stagiritae (1590) was the first Greek and Latin edition of the entire works (opera omnia) of Aristotle.   Casaubon's edition was reprinted four times, and his text would be the standard until the late 18th century.  Causabon was heavily influenced by Petrus Ramus, who attempted to reform educational and scholastic learning of the 16th and 17th century.   Greek: Aristotelous Tou Stageiritou Ta sozomena

Refs: Adams A1736. Brunet I 459. Dibdin I 315.