Elements of the Art of Dying (2 vol. set)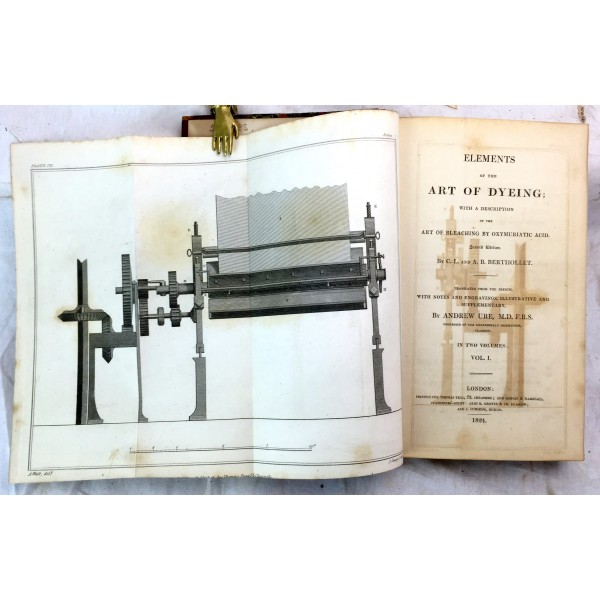 Elements of the Art of Dying. Containing the theory of dying in general, as far as it respects the properties of colouring substances (2 volume set)
Claude-Louis Berthollet; Amedee B BERTHOLLET; Andrew URE
London: Thomas Tegg, 1824.
Includes a hand written letter from Berthollet, dated 1821 to Prof. Jean Hachette, of the Ecole polytechnique. Second English Edition. Two octavo volumes xxviii, 408 ; viii, 453, [2] pp. With 9 engravings (4 folding). Contemporary 3/4 leather over marbled boards. Rehinged and rejointed, wear to edges. Occassional spotting, mostly to plates, stray pen marginalia to Volume II. With additions by Andre Ure of Elements de l'art de la teinture (first published 1791) combined with Description de l'art du blanchiment par l'acide muriatique oxygene (1795).
The Elements of Dying was "a systematic study and scientific discussion of the nature of dyeing." Berthollet used "dephlogisticated marine acid", i.e. chroline gas for his agent.  Berthollet's son Amedee continued his father's work and launched a business in the chemical industry and contributed to this book.  "Berthollet was an early champion in France of the value of chemical theory in the enhancement of industrial processes." – Encyclopedia Britannica. Claude Louis Berthollet was an important French chemist.  He is best known for his work on reverse chemical reactions, chlorine bleaching, gunpowder, and chemical nomenclature.  His fame was not limited to France and he was a member of the Royal Society of London, the Swedish Academy, Royal Institute of the Netherlands, Royal Society of Edinburgh and Ameican Academy of Arts and Sciences.