Description Generale de l'Hostel Royal des Invalides Etabli par Louis Le Grand dans la Plaine de Grenelle pres Paris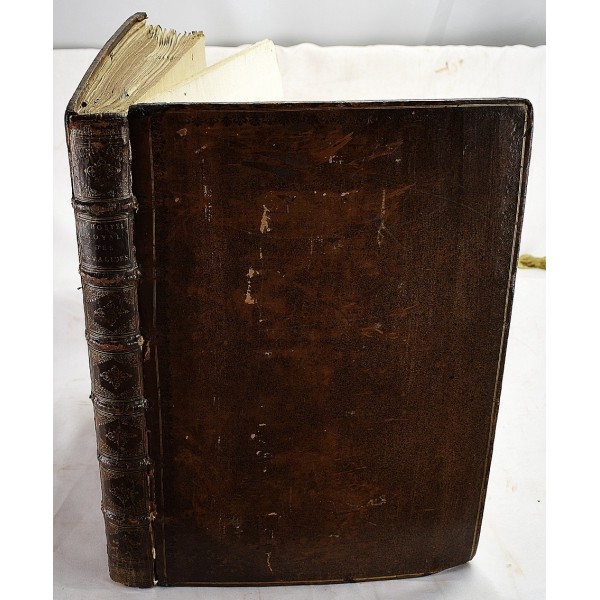 Description Generale de l'Hostel Royal des Invalides Etabli par Louis Le Grand dans la Plaine de Grenelle pres Paris
de La Porte; Le Jeune de Boullencourt; Jean Marot; Pierre Le Pautre
Paris : Chez l'Auteur, dans l'Hostel Royal des Invalides, 1683
[Early work on French architecture] Folio, 44 x 29 cm. Bound in contemporary speckled calf (Reliure de l'epoque). Rebacked. [12], 51 p. Engraved title vignette. Interesting vignette of Louis XIV addressing supplicants on a battlefield seated on his throne on the dedication page. Twenty-nine copper-engraved plates, many folding. The some plates have soiling and early repairs. Planches gravees par Jean Marot et Pierre Le Pautre. The book describes the Hotel commissioned as a hostel for disabled soldiers and built by L. Bruand (1671-4) and J. Hardouin Mansart (1676-1706). An early French hospital.
Armorial bookplate of Hans Sloane, Esq. Sir Hans Sloane (1660-1753) was the physician to George I, and a noted botanist and bibliophile. His collections formed the basis of the British Museum. Huston bookplate no. 1.
Refs: Kunstbibliothek Berlin Cat 2476; Brunet IV, 486. RIBA, Early printed books, 2 (1995), no. 1762; B. Jestaz, L'Hotel et l'eglise des Invalides (1990); A. Mauban, Jean Marot (1944). Catalogers note: According to RIBA, the publishing history of this work is rather complicated, with various attributions and numerous variants. In this example, the text appears to be from 1683, but some of the plates may have been added at a later time.
This is an oversized or heavy book, which requires additional postage for international delivery outside the US.