Collection of 28 volumes on World War II, fascism and espionage.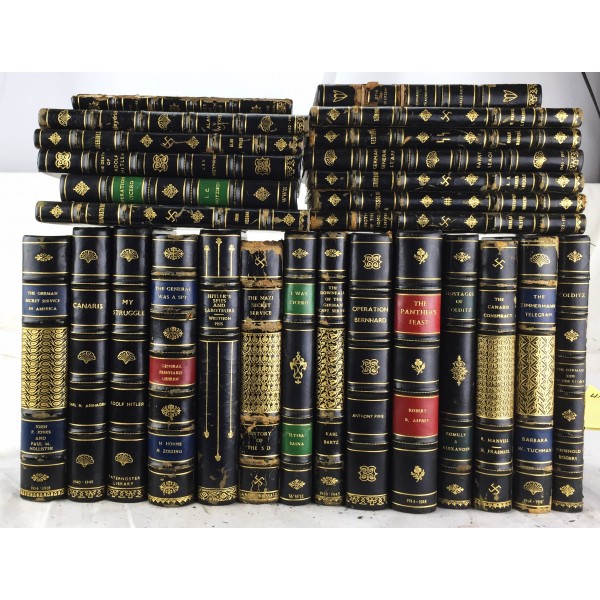 Collection of 28 volumes on World War II, fascism and espionage.
Various

Various, 1950.
Twenty-eight octavo volumes. Modern black leather, gilt, raised bands, compartments decorated in gilt, leather spine labels. Chipping, rubbing to spines, stamp to some volumes front flyleaf. Volumes crisp and clean, save two that have tanned pages.
List of volumes: I was Cicero, Bazna, 1962; Operation Cicero, Moyzisch, 1950; Gobbels, Wykes, 1973; Rundstadt, Keegan, 1974; Night of the Long Knives, Tolstoy, 1972; Mussolini, Hibbert, 1972; Student, Farrar-Hockley, 1973; SS and the Gestapo, Manvell, 1973; Goring, Manvell, 1972; German Secret Service in America, Jones & Holliston, 1918; Downfall of the German Secret Service, Bartz, 1956; Hitler's Spies & Saboteurs, Wighton & Peis, 1958; General Was a Spy, Hohne & Zolling, 1972; My Struggle, Hitler, 1938 Cheap edition; Heydrich, Wykes, 1973; German General Staff, Leach, 1973; Canaris, Abshagen, 1956; Nazi Secret Service, Brissaud, 1974; Zimmerman Telegram, Tuchmann, 1966; Colditz, The German Side of the Story, Eggers, 1961; Death of Adolf Hitler, Bezymenski, 1968; Hostage of Colditz, Romilly & Alexander, 1968; Canaris Conspiracy, Manvell & Fraenkel, 1969; Operation Bernhard, Pirie, 1962; Panther's Feast, Asprey, 1959; Spy in Black Lacke, Sarlat, 1969, Commando Extraordinary, Foley, 1967.