Cocker's English Dictionary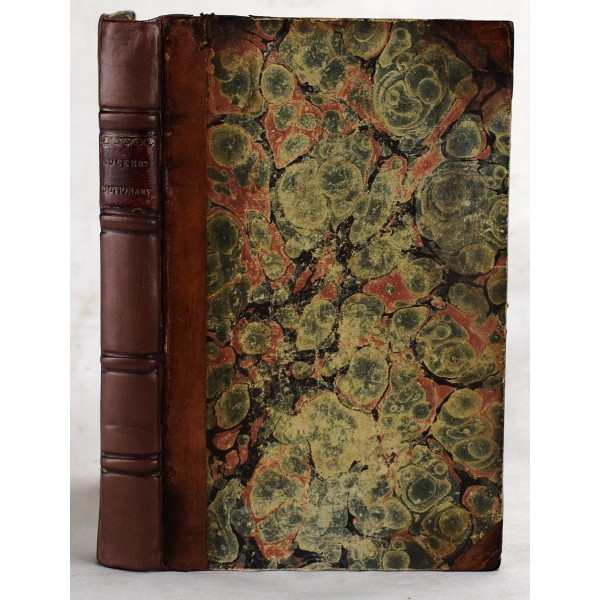 Cocker's English Dictionary
Cocker, Edward; John Hawkins.
 London : Printed for T. Norris at the Looking-Glass on London-Bridge, C. Brown at the Crown in Newgate-Street, and A. Bettesworth at the Red Lyon in Pater-Noster-Row, 1715
[Early Modern English Dictionary]   Bound in contemporary leather-backed, marbled boards. Soiling to title page. Toning. [288] Spine chipped, with some loss. p. 
  "The authorship of this work is suspect, since Cocker died in 1676, and Hawkins in 1692." Alston, V 87.  ESTC T30889. Early signature of Charles Billing.  First published in 1704.  Full title: "containing, an explanation of the most refined and difficult words and Terms in Divinity, Philosophy, Law, Physick, Mathematicks, Navigation, Husbandry, Military Discipline, with other Arts and Sciences: And the Derivation of them from the Hebrew, Greek, Latin, Italian, Spanish, French, and other Languages. Likewise, Historical Remarks upon the Lives and Actions of Emperors, Popes, Kings, Queens, Princes, with a great number of other Persons of Note, both in the former and latter Ages of the World. With Brief Observations upon the Reign of every English Monarch from King William the Conqueror to this Time. Also a short View of what is Considerable in every County of England and Wales. With Variety of other Memorable Matters. A Work very Necessary for all Persons, who desire to understand the Affairs of the World, as well as the Language and Transactions of their own Country".