Carte de l'Isle de Saint Domingue: dressee en 1722 pour l'usage du Roy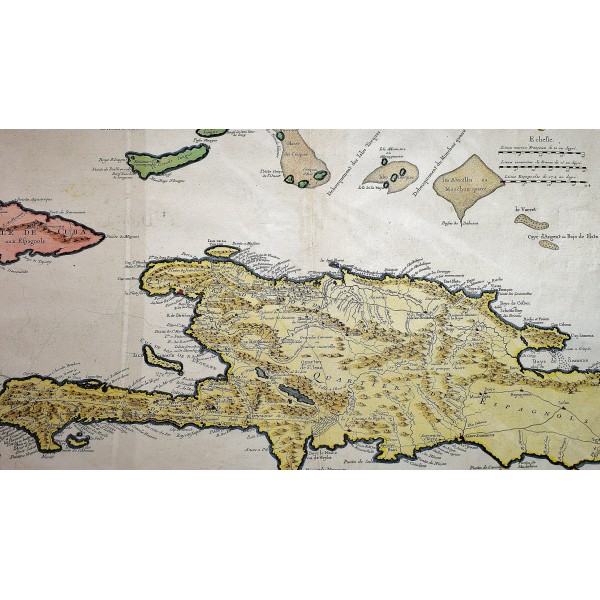 Carte de l'Isle de Saint Domingue: dressee en 1722 pour l'usage du Roy
Guillaume de Lisle; Marin
Paris: Guillaume DeLisle, Quai de l'Horloge, 1725
Original hand colored map. Crease at center fold of map. 62 x 47.5 cm. Scale: 1,300,000. Engraved by Marin.
"The second largest Caribbean island, known to the Spanish as Hispaniola or Espanola and to the French as Saint Domingue, was first explored by Christopher Columbus in 1492 and became the center of Spanish rule in the 16th century. While the Spanish settlements were concentrated on the eastern two thirds of the island, buccaneers occupied the western third during the 17th century. Consequently in 1697, Spain ceded the western third to France. Although the French name is applied to the entire island on this 1725 map by the noted French geographer Guillaume Delisle, the Spanish presence on the eastern part of the island is acknowledged with the designation, "Quartiers des Espagnols," while the French area is labeled "Quartiers du Nord " and "Quartiers du Sud." Delisle's rendition of the island is based on a 1722 map prepared by the French engineer Amedee Frezier."
"DeLisle is important as the first "scientific" cartographer who incorporated the most current information on exploration and topography into his maps. ... Lloyd Brown states that DeLisle "undertook a complete reform of a system of geography that had been in force since the second century, and by the time he was twenty five he had very nearly accomplished his purpose."" - David Rumsey Historical Map Collection.
Refs: Tooley, Mapping of America, 59.