The Complete Works of Victor Hugo: The Novels, Complete and Unabridged of Victor Hugo [AND] The Dramas of Victor Hugo [AND] The Selected Poems of Victor Hugo [Fine Binding] (41 Volume Set)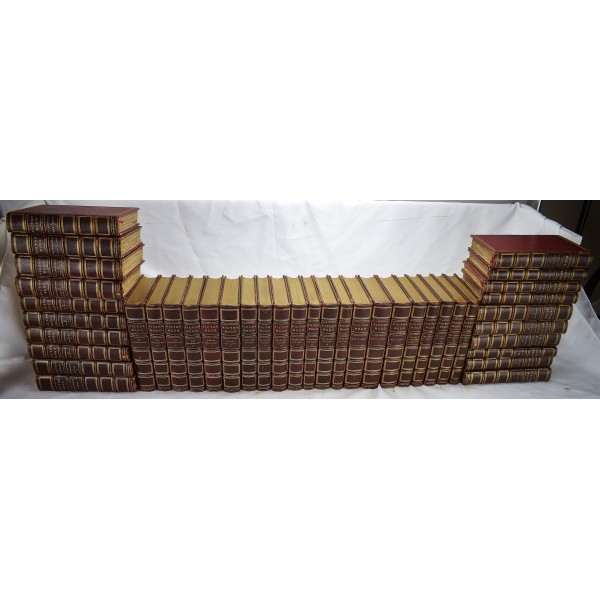 The Complete Works of Victor Hugo: The Novels, Complete and Unabridged of Victor Hugo [AND] The Dramas of Victor Hugo [AND] The Selected Poems of Victor Hugo [Fine Binding] (41 Volume Set)
Victor Hugo
Philadelphia: George Barrie, 1893

[Fine Binding, The Complete Works of Victor Hugo] 41 volume set. Uniformly bound in full crushed red morocco. Gilt spine compartments, gilt spine ruled covers, gilt turn-ins. Top edges gilt. Handsome bindings, with minor rubbing. Includes three sets comprising: The Novels of Victor Hugo (23 volumes, Philadelphia: George Barrie, 1893-1897); The Dramas of Victor Hugo, complete and unabridged (10 volumes, New York: George Richmond, 1896); [AND] Selected Poems of Victor Hugo (3 volumes, Philadelphia: George Barrie, 1897.) The Novels of Hugo is the limited, Cabinet Edition. One of only 100 Numbered sets, printed on Japan Paper. Double illustrated with mounted plates in two states.
List of novels: V. 1-2. Han of Iceland; v. 3-6. Notre Dame of Paris (The Hunchback of Notre-Dame); v. 4-10. The toilers of the sea; v. 11-20. Les Miserables; v. 21-24. The laughing man; v. 25-26. Ninety-three; v. 27. Bug-Jargal; v. 28. Last day of a condemned. Claude Gueux.
This is an oversized or heavy book, which requires additional postage for international delivery outside the US.