The Collected Works of Ambrose Bierce (12 v.)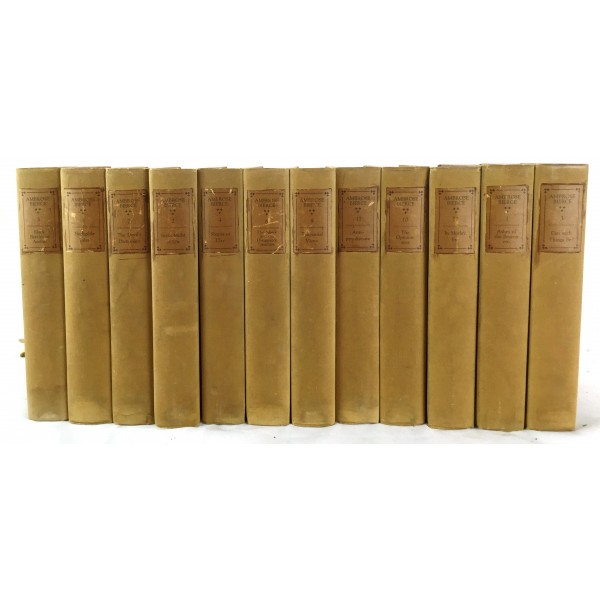 The Collected Works of Ambrose Bierce (12 Volumes Complete)
Bierce, Ambrose
The Neale Publishing Company, 1909.
Twelve octavo volumes. 1909-1912. Trade edition of Bierce's works. Tan cloth backed boards, paper spine labels, top edge gilt. Soiling to spines and labels, rubbing. Bookplate. Crisp, clean and sound internally. Notably contains the first edition of Bierce's Devil's Dictionary (previously referred to as the Cynic's Word Book)


Contents: v. 1. Ashes of the bacon. The land beyond the blow. For the Ahkoond. John Smith, lineator. Bits of autobiography. 1909.--v. 2. In the midst of life (Tales of soldiers and civilians). 1909.--v. 3. Can such things be? The ways of ghosts. Soldier-folk. Some haunted houses. 1910.--v. 4. Shapes of clay. Some ante-mortem epitaphs. The scrap heap. 1910.--v. 5. Black beetles in amber. The Mummery. On stone. 1911.--v. 6. The monk and the hangman's daughter. Fantastic fables. Fables from "Fun."" Aesopus emendatus. Old saws with new teeth. Fables in rhyme. 1911.--v. 7. The devil's dictionary. 1911.--v. 8. Negligible tales. The parenticide club. The fourth estate. The ocean wave. "On with the dance!" Epigrams. 1911.--v. 9 Tangential views. 1911.--v. 10. The opinionator. The reviewer. The controversialist. The timorous reporter. The March hare. 1911.--v. 11. Antepenultimata. 1912.--v. 12. In motley: Kings of beasts; Two administrations; Miscellaneous. 1912.