The Butterfly [New Series] 2 volume set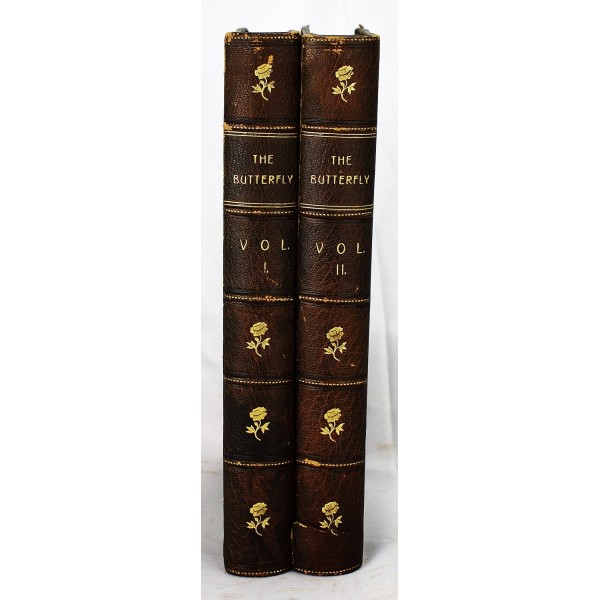 The Butterfly [New Series] 2 volume set
H.G. Wells; Frederick Rolfe, Laurence Housman, Barry Pain, et al. Illustrators include Max Beerbohm, S.H. Sime, Joseph Pennell, Edgar Wilson et al.
London : Grant Richards, 1899
Two octavo volumes, 25 cm. 1899-1900. 12 issues of the entire reissue of the Butterfly. Contemporary 3/4 green Moroccan leather over green linen. iv, 278; ii, 294 pp; illustrated. Rubbing, slight fading to spines. Occasional spotting. Original yellow wraps bound in rear of volumes. Wraps evenly faded and toned.
In 1899, Richards attempted to revive a literary monthly created by Walter Haddon in 1893 called The Butterfly.
Contributors to The Butterfly, which only lasted twelve issues, included H. D. Lowry, Arthur Morrison, Nora Hopper, and many others. Each issue was heavily Illustrated with reproductions of drawings by Max Beerbohm, S. H. Sime, and Joseph Pennell, among others.
Includes the first appearance of A Vision of Judgment by D.O. [H. G. Wells], and 3 pieces of fiction by Laurence Housman: The Palace of Content; A Gander and His Geese; and Tales of a Woodcutter (The Old Yew Tree, and The Whitethorn's Story). <br> From the estate of Jim Graham, former Washington D.C. City Council Member (1998-2014). Graham was head of Whitman-Walker Clinic (1984–1999) and a noted gay community pioneer.