History of the European Languages: or, Researches into the affinities of the Teutonic, Greek, Celtic, Slavonic and Indian Nations (2 volume set)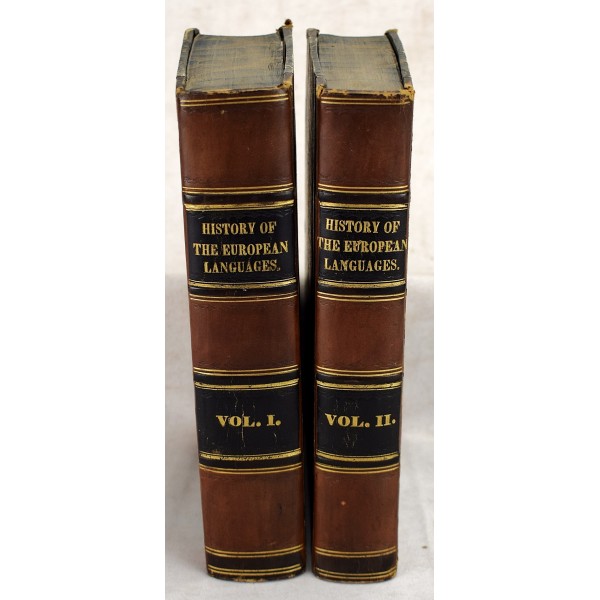 History of the European Languages: or, Researches into the affinities of the Teutonic, Greek, Celtic, Slavonic and Indian Nations (2 volume set)
Alexander Murray
Edinburgh : Printed for Archibald Constable & Co., 1823
Bound in contemporary leather over marbled boards. Gilt lettering. Marbled edges and end pages. Hardcover. Good bindings and covers. Shelf wear. Leather chipped at edges. Front gutter weakened of v.1. Owner's name on title pages.
"Murray's account of the original language of Europe is an extension of Horne Tooke's ideas on language. In this two-volume work Murray sets out what he calls 'the general rules of philological analysis'. The book offers an intriguing insight into the state of language studies in the interim period between Sir William Jones's announcement of the general affinity between Sanskrit, Greek and Latin (1786) and the publication of the German philologist Franz Bopp's detailed study of the conjugation systems of Sanskrit, Greek, Latin, Persian and German (1833-52). This sought-after work on the study of language is an essential tool for historians of 19th-century language."
This is an oversized or heavy book, which requires additional postage for international delivery outside the US.