The Surveyor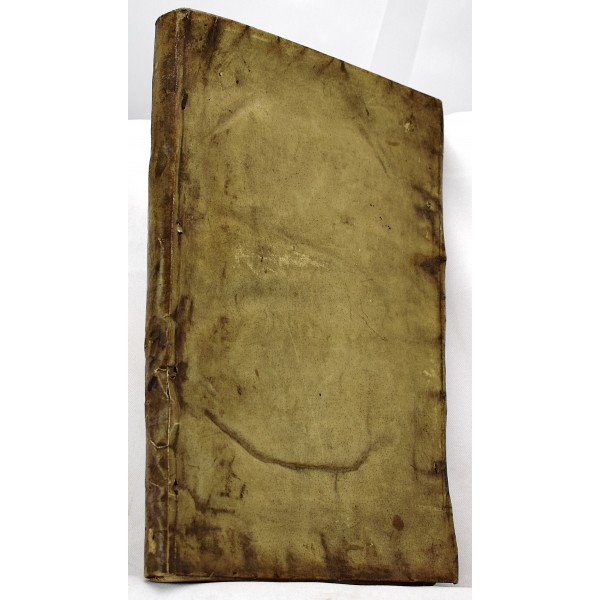 The Surveyor : in Foure Bookes
Aaron Rathborne
London : Printed by W : Stansby for, W : Burre, 1616.
Folio, 29 cm. First edition of "the first comprehensive English textbook on Survey" (Singer, History of Technology, III, p. 541). Engraved title page, [10], 157, 152-175, 172-181, 186-228 pp. Contemporary limp vellum. Creasing and soiling to vellum. Rehinged. Marginal soiling and tanning. Lacks portrait of Rathborne and Prince Charles. O3 is a cancel, fifth line of verso has "58 4/5".
The diagram on p 160 is believed to have inspired the configuration of the Pilgrim Land Survey of Cape Cod conducted in 1636. William Brewster carried a copy of the Surveyor with him on the Mayflower.
For historians of surveying, Rathborne's Surveryor, presents the "first complete picture of a seventeenth century surveyor at work and of his instruments. The frontispiece has a structure supported by two allegorical figures of Arithmetica and Geometria surmounted by celestial and terrestrial globes. The upper vignette depicts an experienced surveyor trampling "fools and dunces underfoot." The Surveyor was one of the first books to strongly advocate the use of mathematics in survey projects. Rathborne presented the basic principles of geometry and discussed their applications in surveying. He advocated use of the recently introduced decimal arithmetic of Simon Stevin (1585) and urged the employ of the "new pocket" tables of logarithms." (Swetz, Mathematical Treasure: Rathborne's Surveyor in Four Books, 2014) Refs: STC 20748; Hind II, p. 267; Johnson 27:15; cf. Taylor, Tudor, pp. 154-5; ESTC S116149; Lowndes IV, 2052. Not in Alden.