Photographs of nebulae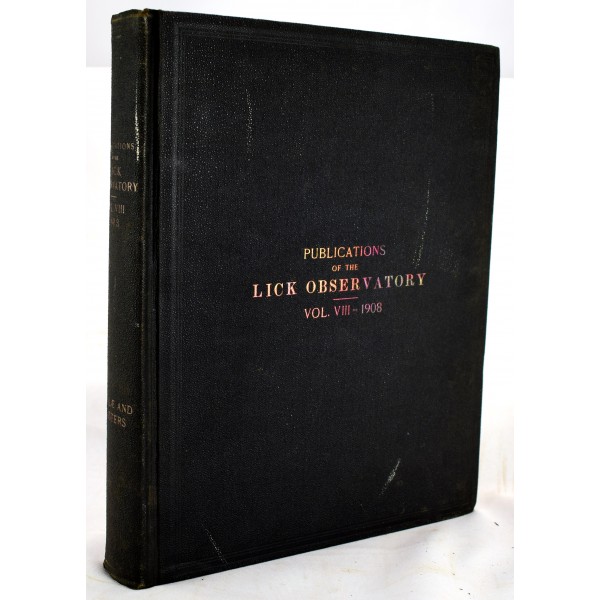 Photographs of nebulae and clusters made with the Crossley reflector; Publications of the Lick Observatory, Volume VIII
James Edward Keeler; Charles Dillon Perrine
University of California publications.; Publications of the Lick Observatory; W.W. Shannon, 1908.
Quarto. Bound in publisher's black cloth.  Publications of the Lick Observatory, v. 8.  (46 pages) frontis, 70 plates with tissue guards. Hardcover. Light rubbing. Bookplate of Aurelia Henry Reinhardt, noted educator, social and peace activist. Clean, crisp and sound. A near fine copy. DSB VII, 270-71.
James Edward Keeler's used a 36-inch Crossley Reflector to photograph the heavens at the Lick Observatory in Mount Hamilton, California.  By making careful modifications, Keeler was able to take unprecedented photographs of deep space.  In 1900 the Crossley Reflector was the largest reflector telescope in the United States. Keeler and Charles Dillon Perrine's photographs captured new, unseen stars.  "The resulting photographs of nebulae surpass any similar photographs ever before obtained, and reveal new and unexpected features of the first importance... The remarkable success of his experiments with the Crossley reflector has impressed everyone who has seen the wonderful photographs of nebulae and star clusters made with this instrument." (George Ellery Hale, Science, Volume 12, Sept 7, 1900, p. 355.)  Keeler's photographs led to subsequent insights in the nature of stars and spiral nebulae.  See Gendler & GaBany, "Breakthrough!: 100 Astronomical Images That Changed the World," p. 36-38.
This is an oversized or heavy book, that requires additional postage for international delivery outside the US. An important work on astrophotography.