Le Poids du ciel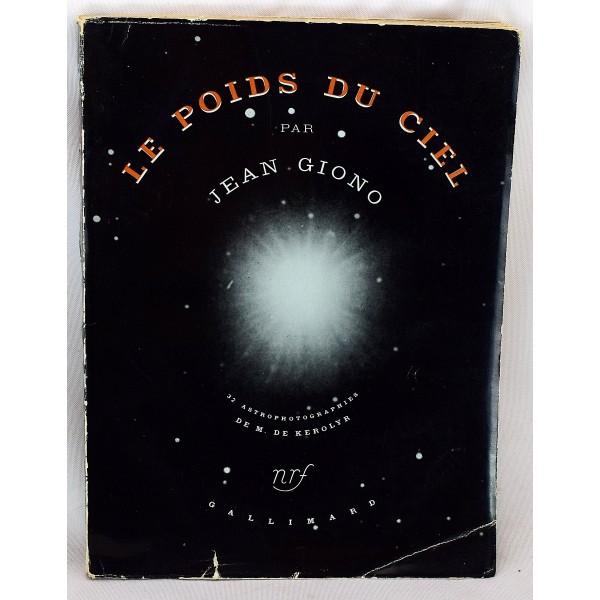 Le Poids du ciel ... 32 astrophotographies de M. de Kerolyr.
Jean Giono and Marcel de Kerolyr
GALLIMARD FRENCH, 1938.
Bound in publisher's photo-wraps. 248 pages. No. 4110 of 6,000. Most pages uncut. Good binding. Reading crease down spine, small crease on front cover, otherwise the cover is very good. With 32 beautiful astrophotographs by Marcel de Kerolyr. "Marcel De Kerolyr was without doubt on the of greatest Astrophotographers of all time, as well as being an astronomer of some note. In the years 1929 to 1934 he took a series of photographs of Deep Space Objects (DSOs) which for the time were the finest ever seen, and would stand up well in comparison to many of today's CCD images. All of his finest photographs were taken with the 80-cm reflector of the Paris Observatory's astrophysics station at Forcalquier, Haute Provence. Among his targets were such famous objects as the 'North American' Nebula, NGC 7000 and the Nebulosity in the Pleiades. In 1938, 32 of Kerolyr's best photographs were published in 'Le Poids Du Ciel'" Hughes, Stefan, "Catchers of the light : the astrophotographers' family history," p. 732.