An historical journal of the campaigns in North-America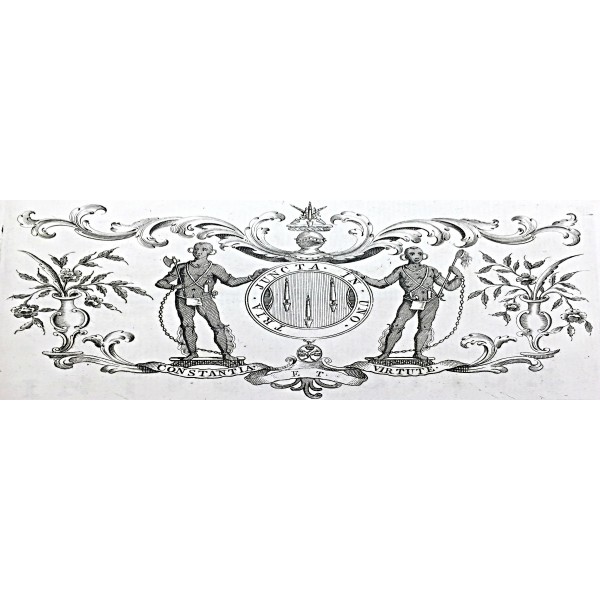 An historical journal of the campaigns in North-America, for the years 1757, 1758, 1759, and 1760 : containing the most remarkable occurrences of that period ; particularly the two sieges of Quebec, &c. &c.
John Knox
London : Printed for the author; and sold by W. Johnston, 1769.
2 volumes. x, [7], 405 pp., subscribers list, errata leaf and folding map; [2], 465 pp., errata leaf. Frontispiece portraits. Bound in full contemporary calf. Gilt spine. Restoration to spine and hinges. Good bindings and covers. Page ends speckled red. Tear to vol.I title restored, with slight loss. Map in excellent condition, light offsetting.
An important work on the French and Indian War campaigns, containing "One of the most accurate and detailed accounts available on the sieges of Louisbourg and Quebec" (TPL). "Few books, perhaps, have been more often quoted by historians and more seldom seen by readers than Knox's Historical Journal" Egerton, English Historical Journal 117, page 151. "Reliable, full and interesting" Howes K222 ("b").
In 1757 Knox arrived with his regiment in Halifax, Nova Scotia, to take part in the anticipated expedition against French-held Louisbourg. Although the attack was postponed and the regiment did not see action in the siege, they took part in the battle of the Plains of Abraham. Knox served under James Murray at Quebec in the winter of 1759-60, and participated in the capitulation of Montreal in 1760. Knox gives a first-hand account of the battles, and supplements his narrative with printings of important official documents and orders from both the British and the French. The portraits represent Generals Wolfe and Amherst, and the map, by Thomas Kitchin, shows the British dominions in North America according to the treaty of 1763. Howes K222, "b"; Sabin 38163; Dionne II:751; Lande 486; Gagnon I:1880; JCB 1680; Streeter Sale 1030; Vlach 417; TPL 32.