A Poetic Survey Round Birmingham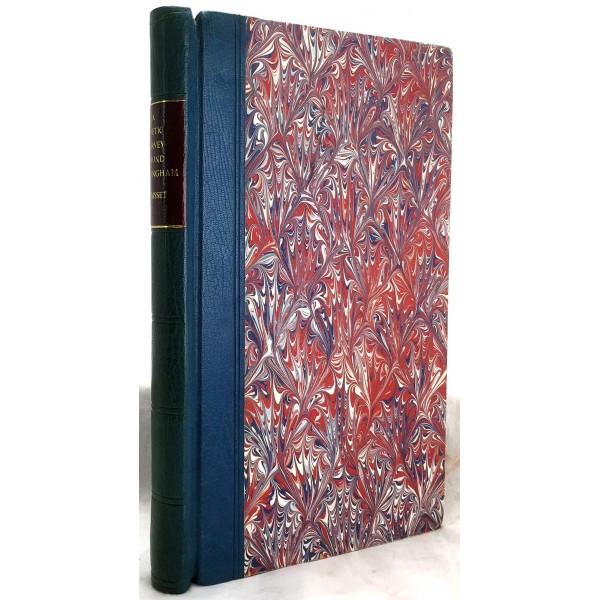 A Poetic Survey Round Birmingham; with a brief description of the different curiosities and manufactories of the place. [Bound with:] A Magnificent Directory Comprising the Names, &c. of Upwards of Three Hundred Professional Gentlemen, Merchants, Bankers, Tradesmen, Manufacturers, &c. of Birmingham.
James Bisset
Printed for the author by Swinney and Hawkins, 1800.
Royal octavo. 25 cm x 15 cm (10" x 6"). First edition. Modern quarter blue moroccan over marbled boards, red leather spine label. [2], i-viii, 9-62, [2] pp. (paginated continuously), frontis map, 27 proof plates of advertisements. Rubbing to edges. Occasional minor toning and spotting. A charming work of its kind, noteworthy chiefly for the very fine plates in the manner of trade cards. The Monthly Review commented that 'This Survey has indeed the merit of easy familiar and minutely descriptive versification but the epithet poetic does not in general belong to it. The writer has endeavoured to exhibit as from the top of St. Philip's Church A Panorama of Birmingham in verse; or to string together in artless rhymes the names of the different seats manufactories &c. in and round that town'. The same reviewer though praises the work as being 'not only amusing but useful; and the elegant decorations which accompany it considerably add to its value' (The Monthly Review 1800 pp. 319-20). Norton 716; Upcott 1271 noting. 'Some copies are in royal octavo with proof Plates; others coloured and a few are printed in colours'; KESTC T143270; Goldsmiths'-Kress 17827; Johnson 96; Watt; Norton 716.