A New Universal Etymological English Dictionary: Containing Not Only Explanations of the Words in the English Language, and the Different Senses in Which They are Used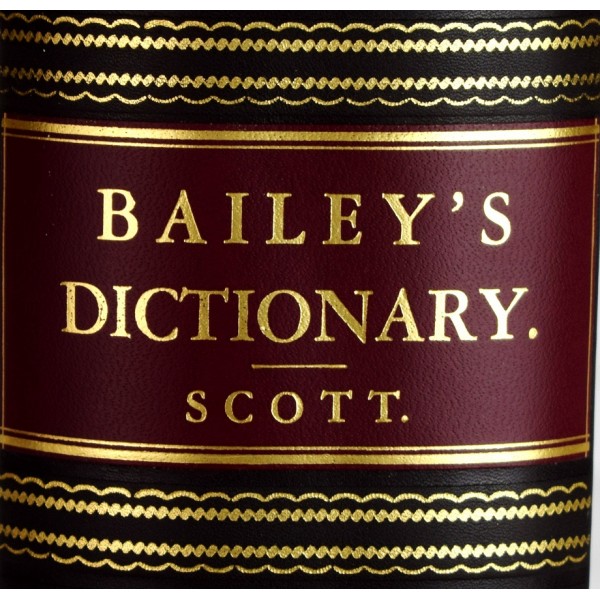 A new universal etymological English dictionary : containing not only explanations of the words in the English language, and the different senses in which they are used ... but also their etymologies ... and accents directing to their proper pronunciation ; shewing both the orthography and orthoepia of the English tongue. Also full and accurate explanantions of the various terms made use of in the several arts, sciences, manufactures, and trades.
Nathan Bailey; George Gordon; Philip Miller; Thomas Lediard; Joseph Nicoll Scott
London : Printed for T. Osborne ... R. Baldwin ... J. Ward ... W. Johnston ... and S. Crowder and Co., 1761
Folio. No date on title, circa 1760/61. xviii, [1080] pp, Engraved frontispiece; 12 engraved plates on ll sheets. illustrations ; 43 cm. Modern 3/4 leather over original marbled boards, marbled page ends, marbled endpapers. Foxing and minor toning.
In 1721, Bailey published the first first monolingual English dictionaries to focus on defining words in common usage, rather than just difficult words. Bailey's Dictionarium Britannicum (1730 and 1736) was the primary resource mined by Samuel Johnson for his Dictionary of the English Language (1755). The "Scott-Bailey" or "Bailey-Scott" dictionary, contains relatively slight revisions by Scott, but mostly plagiarizes Johnson's own dictionary. "The attempt of the Bailey proprietors to enter a folio to rival Johnson's great Dictionary remained alive through 1772, three years after Scott's death." See Starnes & Noyes, chapt. XXII for a full treatment; Alston V, 175.