A New American Atlas: Containing Maps of the Several States of the North American Union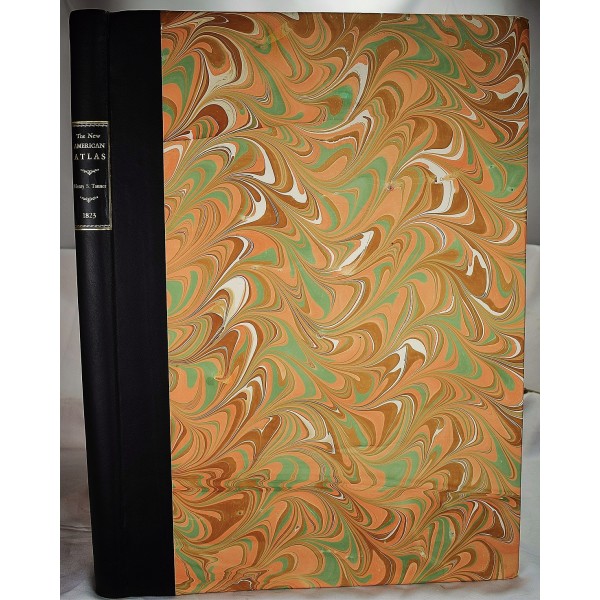 A New American Atlas: Containing Maps of the Several States of the North American Union
Henry Schenck Tanner
 Philadelphia : H.S. Tanner, 1823
Atlas folio, 60.5 x 43 cm. Contemporary leather backed boards, rebacked with new spine.  Solid binding and cover. Complete with 22 hand-colored, copper engraved maps. A few of the maps have marginal restoration or restoration at center folds.  Half-title has some marginal chipping. Engraved title showing Columbus landing in the New World has some toning, minor spotting.  18 text pages (one provided in facsimile).  Manuscript map of Cape Cod on verso of map 17. 
Refs: Howes T29; Sabin 94319; Phillips 1374; Schwartz and Ehrenberg, Mapping of America, p. 251; Wheat Transmississippi 350; Rumsey 2892. 
  What makes the Tanner Atlas special is that it was so much better than other contemporary American atlases and that it was uniform in scale, updated with recent discoveries in the interior of North America (Tanner consulted Lewis and Clarks actual maps to devise his atlas) and in an large and opulent format.  The US Gazette stated that "it [Tanner's Atlas] is decidedly one of the most splendid works of the kind ever executed in the Country" (US Gazette, September 1823). "A landmark in American cartography ... the first comprehensive analytical compilation of existing cartographic and geographic data for the United States as a whole" (Schwartz-Ehrenberg).  Tanner is "thought to be the first native-born American to devote his career to publishing." - Tooley's Dictionary of Map Makers.  
The 22 maps include: The World; Europe; Asia; Africa; North America (4 sheets joined); South America (2 sheets); Maine, New Hampshire and other states; New York; Pennsylvania and New Jersey; Virginia, Maryland and Delaware; Ohio and Indiana; Kentucky and Tennessee; North and South Carolina; Georgia and Alabama; Louisiana and Mississippi; Illinois and Missouri; Florida.