A History of British Birds [AND] The History of British Fishes [Fine Binding] (5 Volumes)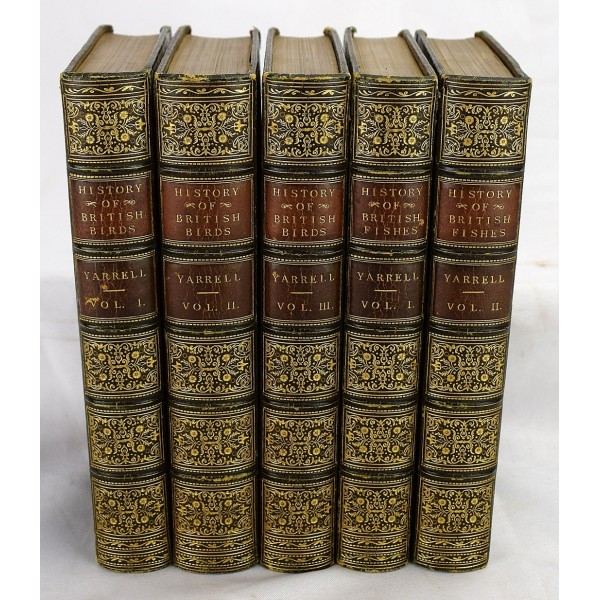 A History of British Birds [AND] The History of British Fishes [Fine Binding] (5 Volumes)
Yarrell, William.
John Van Voorst, London, 1836
[Fine binding] 5 volume set. Uniformly bound in 19th century forest green, crushed morocco. Binding signed, "J. Wright." Containing two titles: "A History of British Birds," in three volumes. "Illustrated by 520 Wood-Engravings." [AND] "A History of British Fishes," "Illustrated by Nearly 400 Woodcuts." Printed 1836; 1843. Octavos. Spines profusely gilt stamped. Gilt ruled, gilt doublures. All edges gilt. Marbled end sheets. Pages are clean and unmarked. Pagination: Birds: v. 1, 525 pp; v. 2, 669 pp; v.3, 528 pp, Supplement, 53 pp. Fishes: v.1, 408 pp, Supplement 48 pp; v.2, 472 pp, Supplement, 72 pp.
This was Yarrell's most famous work. William Yarrell was an early zoologist and taxonomist from London. His work was admired for its scientific methodology and clear illustration. As a result, it remained "for many years a standard work on the natural history of British birds" - Zimmer. The British subspecies of White Wagtail, Pied Wagtail Motacilla alba yarrellii, was named after him. "The value of [Yarrell's]... works and the admiration which they still evoke may be said to be due to the accuracy of the information they contain together with the simplicity of their style and the charm and fidelity of the illustrations." (Mullens and Swann). 'The standard work in this field' (Anker). Refs: Anker pp. 57-8; Freeman 4177; Mullens & Swann pp. 670-1; Nissen IVB 1029; Wood p. 639; Zimmer pp. 697-9.