Zeitschrift fur den physikalischen und chemischen unterricht. (v.5, 10, 11, 13, 15, 18, 20, 22, 30, 32, 41) (1891-1928) (11 volumes)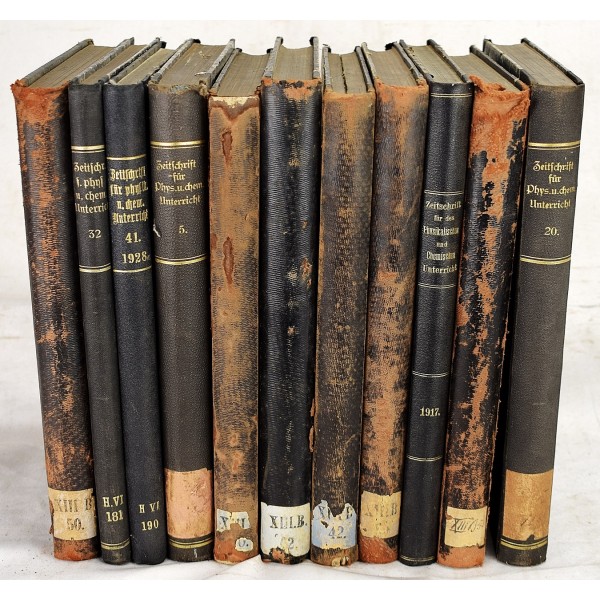 Zeitschrift fur den physikalischen und chemischen unterricht. (v.5, 10, 11, 13, 15, 18, 20, 22, 30, 32, 41) (1891-1928) (11 volumes)
Friedrich Poske, Ernst Mach; Bernhard Schwalbe
Berlin, J. Springer, 1892
[Journal for the Teaching of Physics and Chemistry] 11 volume set. Includes volumes: v.5 (1891-1892), v.10 (1897), v.11 (1898) , v.13 (1900), v.15 (1902), v.18 (1905), v.20 (1907), v.22 (1909), v.30 (1917), v.32 (1919), v.41 (1928); printed between 1892-1928. 6 volumes leather backed with cloth covers, 5 bound in cloth. v.22 spine leather is scuffed. Stamp end page, otherwise clean and unmarked. Bindings solid.
The journal was published 1887-1943. It was first edited by Friedrich Poske, the emanent physicist Ernst Mach, and Bernhard Schwalbe. "Advances in the two subjects were presented in topical but not too theoretical a manner... it attracted readers outside the school system." - Springer-Verlag: History of a Scientific Publishing House: Part 1: 1842–1945, p. 132.
This is an oversized or heavy book, which requires additional postage for international delivery outside the US.