Vera Historia Unionis Non Verae Inter Graecos Et Latinos, Sive Concilii Florentini Exactissima Narratio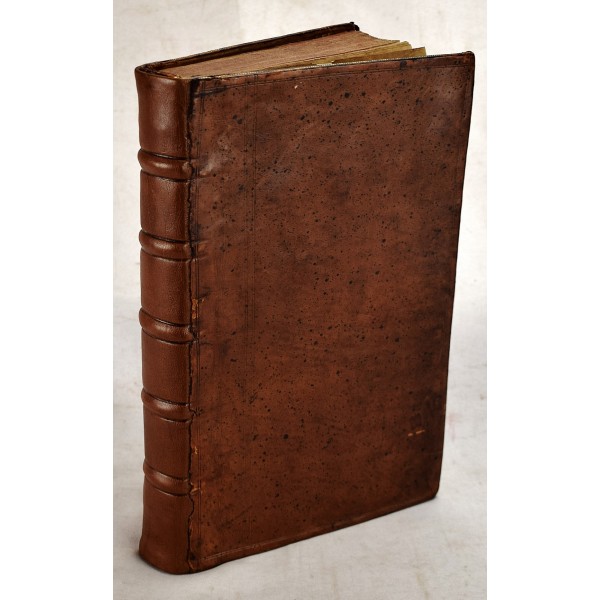 Vera Historia Unionis Non Verae Inter Graecos Et Latinos, Sive Concilii Florentini Exactissima Narratio
Silvestros Syropoulos; Sgoropulos; Robert Creighton (CRICHTON)
Hagae-Comitum: Adriaen Vlacq, 1660
[Translation of Syropulus's account of the Councils of Ferrara and Florence, 1438-1445] Folio. Bound in contemporary calf. Rebacked, with original binding conserved. Greek and Latin in parallel columns. Half-title, [68], 351, [1], 40, [8] pages. Title page in red and black. Pages clean and unmarked. Edges washed red. Armorial bookplate of the Marquess of Tweeddale.
These councils were an attempt to deal with schism in the Western church (the Hussites) and the East–West Schism (in part reaction to the dire situation created by the success of the Ottoman Turks). Sylvester Syropulus's history was cited by Gibbon in his History of the Decline and Fall of the Roman Empire, "Vera historia unionis... was first published with a loose and florid version, by Robert Creygton, chaplain to Charles II. in his exile. The zeal of the editor has prefixed a polemic title, for the beginning of the original is wanting. Syropulus may be ranked with the best of the Byzantine writers for the merit of his narration, and even of his style; but he is excluded from the orthodox collections of the councils." - Chap. LXVI, p. 96. Little Brown, 1855 ed. Robert Creighton (Perthshire, Scotland) was a royalist Bishop of Bath and Wells. He fled to the continent with the overthrow of the monarchy and was reinstated during the restoration. He translated this work "with a long preface; this was answered by the Jesuit Leo Allatius 'In R. Creygtoni apparatum versionem et notas,' Rome..., and to this Creighton made a reply." - DNB.
See: THE LIBRARY OF THE EARLS OF MACCLESFIELD REMOVED FROM SHIRBURN CASTLE. PART TWELVE: CONTINENTAL BOOKS AND MANUSCRIPTS, 02 OCTOBER 2008, Lot 4418.