Theatrum Botanicum: The Theater of Plants. Or, An Herball of a Large Extent: Containing Therein a More Ample and Exact History and Declaration of the Physicall Herbs and Plants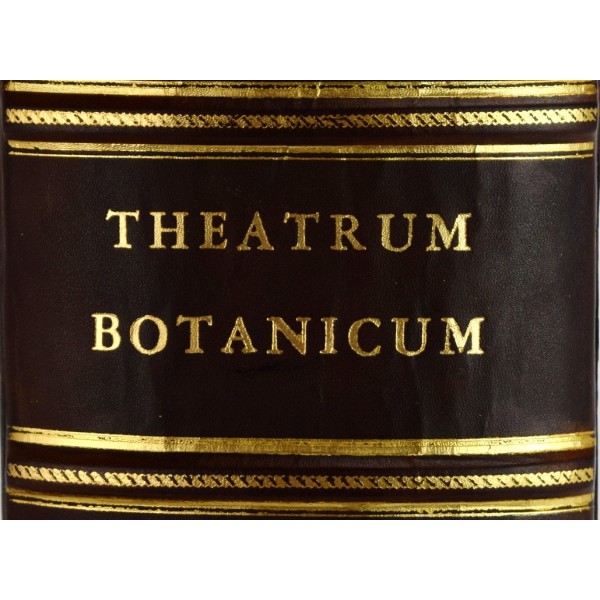 Theatrum botanicum: The theater of plants. Or, An herball of a large extent: containing therein a more ample and exact history and declaration of the physicall herbs and plants that are in other authours, encreased by the accesse of many hundreds of new, rare, and strange plants from all the parts of the world, with sundry gummes, and other physicall materials, than hath beene hitherto published by any before; and a most large demonstration of their natures and vertues. Shevving vvithall the many errors, differences, and oversights of sundry authors that have formerly written of them; and a certaine confidence, or most probable conjecture of the true and genuine herbes and plants.
Parkinson, John
Printed by Tho. Cotes, London, 1640
First edition. Folio, 34.5 x 24 cm. [20] 1755 pp. Lacking engraved title, final 3 pages of errata. Rebound in modern leather. Fine binding. 5 raised bands. Gilt flourish and title to spine. Restoration to title page. Some toning, spotting and marginal soiling/staining. Offsetting to woodcuts. Dampstaining, corrosion to first leaves with loss to text. Occasional old ink corrections and marginalia. Final leaf remounted.
Parkinson held the position of Botanicus Regius Primarius to Charles I and Apothecary to James I. Parkinson's Theatrum Botanicum is the largest of the English herbals (nearly double that of the first edition of Gerard's). "While Parkinson's reputation was established by the appearance of his Paradisus in 1629, the latter was overshadowed by the publication in 1640 of what was his much greater work, the Theatrum Botanicum . This digest attempted the description of nearly 4,000 plants, almost 1000 more than were contained in Johnson's edition of Gerard. The descriptions in many instances are new and great care was exercised to secure accuracy in indicating localities."- Green. The Botanicum was the most complete and beautifully presented English botanical treatise of its day. "One of the two main pillars of botany in England at the time of Ray" (Henrey). Parkinson's work, although based on Matthias L'Obel's works, was in large part original. It was the first work to describe 33 native plants, 13 of which grew near Parkinson's Middlesex home. Some of these plants, such as the Welsh poppy, the Strawberry Tree and the Lady's Slipper, were very common but had gone unnoticed or at least unrecorded. He intended the book to be a reliable guide for apothecaries, and it remained so for more than a hundred years after his death.
Refs: Henrey 286; Hunt 235; STC 19302; Nissen 1490; Garrison-Morton, 1823; Norman 1643; Green, Landmarks of Botanical History.