The Works of H.G. Wells (28 volumes) [Signed by Wells]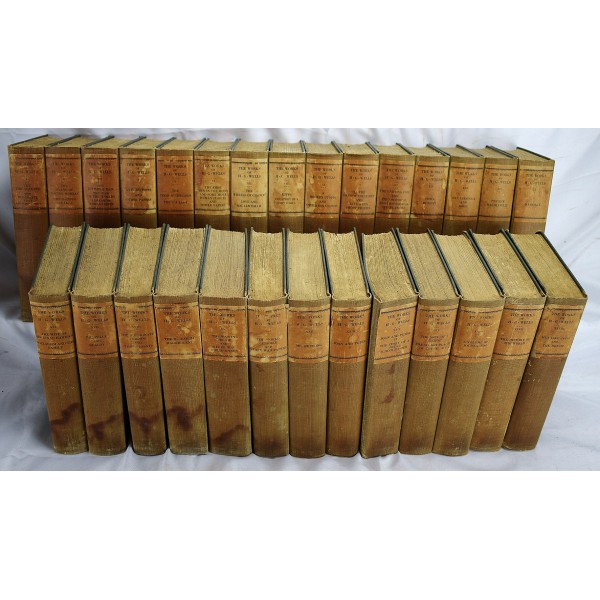 The Works of H.G. Wells (28 volumes) [Signed by Wells]
Wells, H.G.
Charles Scribner's Sons, 1924
[Autographed by H.G. Wells] 28 volume complete set. Signed by H.G. Wells on limitation page of first volume. Atlantic Edition, 1924-1927. 22 cm. Limited edition, no. 165 of 1050 sets. Publisher's brown cloth spines over green boards. Paper spine labels. Some volumes have discoloration along spine. A few volumes have light damp staining. Many of the volumes unopened.
Contents: v. 1. The time machine. The wonderful visit and other stories --v. 2 The island of Doctor Moreau. The sleeper wakes --v. 3. The invisible man. The war of the worlds. A dream of armageddon --v. 4 Anticipations and other papers --v. 5 The food of the gods. The sea lady --v. 6. The first men in the moon and some more human stories --v. 7. The wheels of chance. Love and Mr. Lewisham --v. 8. Kipps, the story of a simple soul --v. 9. A modern utopia and other discusssions --v. 10. In the days of the comet and seventeen short stories. v. 11. The undying fire and philosophical and theological speculations --v. 12. Tono-Bungay --v. 13. Ann Veronica and Boon --v. 14. The new Machiavelli --v. 15. Marriage --v. 16. The wife of Sir Isaac Harman. Socialism and the family --v. 17. The history of Mr. Polly and Bealby --v. 18. The passionate friends, a novel and Three essays --v. 19. The research magnificent --v. 20. The war in the air and Other war forebodings. v. 21. The world set free and other war papers --v. 22. Mr. Britling --v. 23. Joan and Peter, the story of an education I --v. 24. Joan and Peter II. The story of a great schoolmaster --v. 25. The soul of a bishop. The secret places of the heart --v. 26. A volume of journalism --v. 27. The history of the world --v. 28. Men like gods and The dream.
This is an oversized or heavy book, which requires additional postage for international delivery outside the US. 1925