The Works of George Eliot. (21 volumes) (Fine Bindings)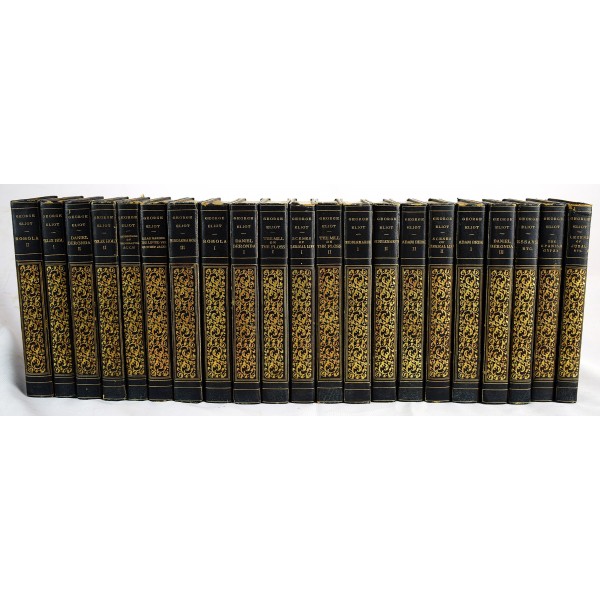 The Works of George Eliot. (21 volumes) (Fine Bindings)
GEORGE ELIOT
WILLIAM BLACKWOOD, 1919
21 volume set. Fine bindings.  Bound in 3/4 navy morocco or marbled boards. Gilt flourish to spines.  Gilt ruled.  Top edge gilt. Hint of shelf wear. Marbled end pages. Standard edition.  This collection covers an array of Eliot's works spanning from 1857-1919. No date, presumed early 20th century. 
Titles included in this collection are: 
Impressions of Theophrastus Such.
The legend of Jubal and other poems. 
Essays and Leaves from a note-book 
The Spanish gypsy. 
Silas Marner, The Lifted Veil, and Brother Jacob.
Daniel Deronda, 3 vols.
Middlemarch, 3 vols.
Adam Bede, 2 vols.
Felix Holt, 2 vols.
Romola, 2 vols. 
Scenes of clerical life, 2 vols.
The Mill on the floss, 2 vols.
Please feel free to view our photographs of this set.
This is an oversized or heavy book that requires additional postage for international delivery outside of Canada and the US.