The Seaman's Vade-Mecum and Defensive War by Sea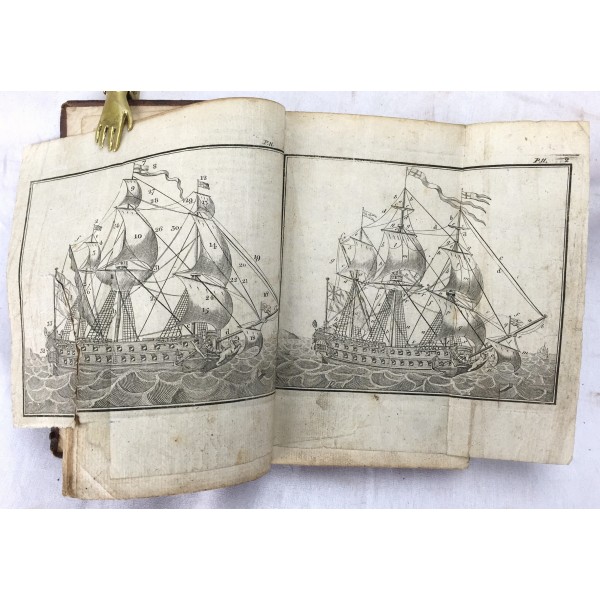 The Seaman's Vade-Mecum and Defensive War by Sea
William Mountaine; John Adams
London : Printed for Mount and Page, on Tower-Hill, 1783.
Bound in contemporary sheepskin leather. Scattered foxing, hand soiling. Early signatures of Thomas Wild of Southampton, Hampshire, England. (also of Ealing). Collation: [10], xii, 17, [8], 14*-15*, [2], 18-242 pages, folding plates: illustrations. Some of the folding plates have tears at the creases.
The Seaman's vade mecum was an 18th century English naval textbook. First printed in 1744, The Seaman's Vade-mecum was a revision of R. Park's Defensive War by Sea. The book went through more than 12 editions. Mountaine was a mathematician, navigational expert and member of the Royal Society.
Full title: "The seaman's vade-mecum : and defensive war by sea: containing a maritime dictionary ; the proportions of rigging, masts and yards ; Weight of Anchors ; Sizes and Weight of Cables and Cordage ; List of the Navy.The Words of Command in exercising the small Arms, Bayonet, Granadoes, and great Guns, Duty of Officers, &c. Also shewing how to prepare a merchant-ship for a close fight, through the Bulk-Heads, Coamings, Loop-Holes, &c. with the Advantages to be taking in Chacing, considered, under all Positions in respect to Wind and Tide. Defensive Fighting ; Shewing how Merchant - Ships are to act, in Fleets, when Canonaded or Boarded by the Enemy. Naval Fortification ; The Advantages of Mooring considered, in respect to Wind and Tide ; and how to lay Booms in Rivers, and raise Redoubts to defend them. An Essay on Naval Book - Keeping ; Or a regular Method for the Purser, Clerk, Steward, and other Officers to keep an Account of Stores, &c. The Method of forming Signals for sailing in Company, under a Commodore in Time of War ; with many other Particulars relating to the Navy, East-India, and Merchant Service." Refs: Brown 120