The Roman Wall, and Illustrations of the Principal Vestiges of Roman Occupation in the North of England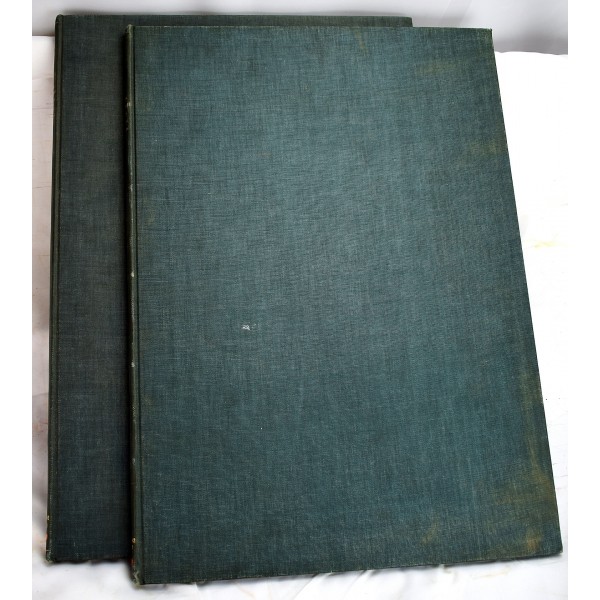 The Roman Wall, and illustrations of the principal vestiges of Roman occupation in the North of England : consisting of plans of the military works, the stations, camps, ancient ways, and other remains of the earlier periods, in the northern counties : from original surveys made by direction of His Grace the Duke of Northumberland (2 volume set)
Henry MacLauchlan; Algernon Percy Northumberland, Duke of
Printed for Private Distribution, 1857
2 volume set. 1857-64. Folio; 57 cm. Rebound in green cloth. [2] leaves, v, vi leaves of plates : 11 double page maps. Some of the maps have hand colored highlights. Institutional stamps on title page and last plate leaf. Second part has half-title: The Watling Street : the chief line of Roman communication leading across the counties of Durham and Northumberland, from the river Swale to the Scotch border : with enlarged plans of the stations and camps adjacent to the line : from the original surveys made by direction of His Grace the Duke of Northumberland, K.G., on occasion of the meeting of the Archaeological Institute at Newcastle upon Tyne, in 1852.
In 1804 Henry MacLauchlan joined the Royal Corps of Military Surveyors and Draftsmen as a cadet, "He trained as a military surveyor, spending several years in Cork, but along with most other draughtsmen was placed on half pay when the corps disbanded in 1817. In 1823–4 MacLauchlan was employed by the Ordnance Survey in Gloucestershire, south Wales, and Bedfordshire" (ODNB) He continued to work for the OS until his retirement in 1844, when he "returned to Cornwall with the assessionable manors commission, surveying hill forts and linear earthworks. By 1848 MacLauchlan was conducting a similar survey of ancient remains in the North Riding of Yorkshire for the keen amateur archaeologist Algernon Percy, Lord Prudhoe, later fourth duke of Northumberland. On its successful completion and publication the duke commissioned MacLauchlan to undertake further field surveys of Watling Street, Hadrian's Wall, the eastern branch of Watling Street, and other remains in Northumberland MacLauchlan recorded with precision details of many ancient monuments, some of which have since been destroyed. His work was accorded little recognition until the 1950s and 1960s, but later scholars working on Roman and prehistoric remains in the north of England freely acknowledge their debt to his draughtsmanship and accuracy." Henry Lawes Long, of Hampton Lodge in Surrey, was a keen antiquary and the author of two publications on the problem of Hannibal's route through the Alps - Hannibal's Passage of the Alps (1830) and The March of Hannibal to from the Rhone to the Alps (1831); a study of Roman remains in the south of England (1836), and A Survey of the Early Geography of Western Europe, as connected with the First Inhabitants of Britain, their Origin, Language, Religious Rites, and Edifices (1859).
This is an oversized or heavy book, which requires additional postage for international delivery outside the US.