The Present State of His Majesties Isles and Territories in America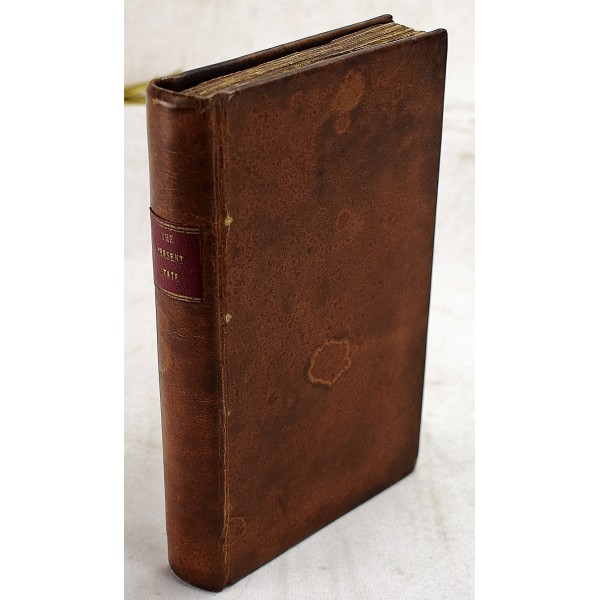 The present state of His Majesties isles and territories in America, viz, Jamaica, Barbadoes, S. Christophers, Mevis, Antego, S. Vincent, Dominica, New-Jersey, Pensilvania, Monserat, Anguilla, Bermudas, Carolina, Virginia, New-England, Tobago. New-Found-Land. Mary-Land, New-York.
Richard Blome; Robert Morden
London : printed by H. Clark, for Dorman Newman, at the Kings-Arms in the Poultrey, 1687
[First edition of these popular British pro-colonial work] Bound in modern leather. Good binding and cover. Scattered spotting. [8], 262, [42] pages; (including 3 leaves of publisher's advertisements at rear). 5 (of 7) folding maps, and a folding astronomical plate. Lacks frontispiece portrait of James II and two maps (Carolina and New England & New York). The following maps are present: 1) A New & Exact Mapp of ye Isle of Jamaica [with an inset map of the whole of the Caribbean]; 2) The Island of Barbados; 3) Aetivarum Insulae - Bermuda; 4) A New Map of Virginia. Maryland. Pennsylvania. New Jersey; 5) The North West Part of America [northeastern Canada and Hudson's Bay]. Repairs to the folding Jamaica map. Signature and library stamp on title page. Refs: Wing B3215; Church 699; Howes B546; Sabin 5972; ESTC R7492.
Howes states Blome's account, "did much to attract emigration" to America. This work aimed at attracting emigrants to the colonies. Each of the colonies is depicted in great detail, including climate, resources, native inhabitants, etc. Includes Quentin Stockwell of Deerfield, Massachusetts's narrative of his captivity among the Indians during King Phillip's War.