The Plays of William Shakespeare (37 Volumes Complete)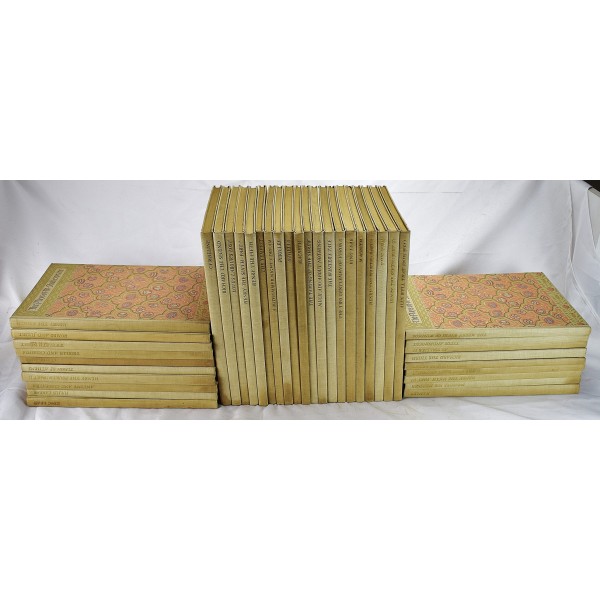 The Plays of William Shakespeare (37 Volumes Complete)
Shakespeare, William Shakespeare; Herbert Farjeon; Bruce Rogers; Arthur Rackham, Eric Gill, Valenti Angelo, Frank Brangwyn, Frans Masereel
Limited Editions Club, 1940
37 volume set. Signed by designer, Bruce Rogers. Limited Editions Club, one of 1950 numbered sets. 33 cm. Quartos. Hardcover. Very good bindings and covers. Clean, unmarked pages. Uncut. Edited by Herbert Farjeon from the text of the first folio and quarto editions. Illustrated by Arthur Rackham, Eric Gill, Valenti Angelo, Frank Brangwyn, Frans Masereel, etc.
The Limited Editions Club was founded in 1929 by George Macy with the intent of publishing beautifully illustrated and designed classic literature for a relatively small number of subscribers. Much of the LEC's fame stems from its use of some of the best illustrators and artists available. Each title was uniquely designed with individualized paper and cover materials. The Limited Editions Club was created to publish finely illustrated and designed books. Many of the books contain original printed etchings, lithographs, engravings, etc. from famous contemporary artists.
Contents: [1] Henry the Eighth. --[2] King Lear. --[3] As you like it. --[4] A midsummer's night dream. --[5] The merchant of Venice. --[6] The merry wives of Windsor. --[7] Hamlet. --[8] The comedy of errors. --[9] Troilus and Cressida. --[10] Coriolanus. --[11] Othello. --[12] Measure for measure . --[13] Henry the Fourth, pt. 1. --[14] Henry the Fourth, pt. 2. --[15] Macbeth. --[16] Antony and Cleopatra. --[17] Julius Caesar. --[18] Love's labour's lost. --[19] The two gentlemen of Verona. --[20] Cymbeline. --[21] Much ado about nothing. --[22] Twelth night. --[23] The winter's tale. --[24] King John. --[25] Henry the Sixth, pt. 1. --[26] Henry the Sixth, pt. 2. --[27] Henry the Sixth, pt. 3. --[28] Titus Andronicus. --[29] Henry the Fifth. --[30] Richard the Second. --[31] Pericles. --[32] Timon of Athens. --[33] The tempest. --[34] Romeo and Juliet. --[35] Richard the Third. --[36] The taming of the shrew. --[37] All's well that ends well.
This is an oversized or heavy book, which requires additional postage for international delivery outside the US.